#76: The South Side Smoke Sandwich at Stellina Pasta Café
by Ian Froeb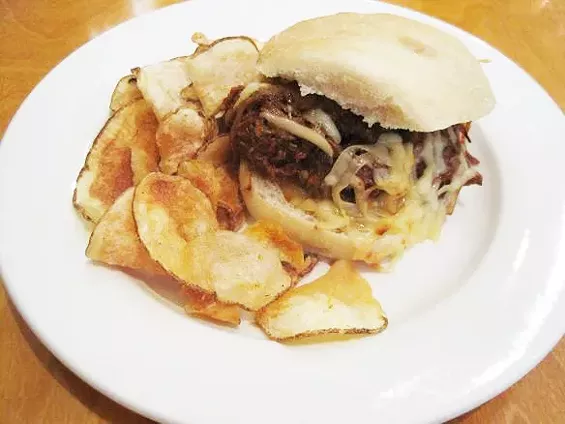 One day I'll order pasta again at Stellina Pasta Café. Until then, though, like a nicotine addict, I'll be unable to resist the lure of smoke. The South Side Smoke is pork shoulder imbued with the sweetness of hickory and apple woods.
The pulled meat is topped with smoked gouda -- a deeper smoke flavor -- and served on ciabatta that carries a soft tang of sea salt. That's it. That's all you need.
Stellina Pasta Café
3342 Watson Road
314-256-1600
$8.95
I'm counting down -- in no particular order -- 100 of my favorite dishes in St. Louis. Some are well-known, others obscure. Some are expensive, others dirt cheap. All of them, I guarantee, are delicious. Please do not hesitate to share your own favorites via the comments thread.
Previously:
#77: Falafel at Kabob House
#78: A slice with pepperoni at Feraro's Jersey-Style Pizza
#79: Birria at Pueblo Nuevo
#80: Banh mi dac biet at Phuc Loi
#81: Prosciutto bianca pizza at the Good Pie
#82: Gold Coast Chocolate ice cream at Serendipity Homemade Ice Cream
#83: Hot salami (salam de testa) at Gioia's Deli
#84: Veal parmesan sandwich at Biggie's
#85: Nachos (with jalapeños and extra cheese cup) at Busch Stadium
#86: Lobster bisque at Café Ventana
#87: Calamari fritti at Mangia Italiano
#88: Brisket sandwich at Winslow's Home
#89: Paletas at La Vallesana 2
#90: Spaghetti and meatballs at Sugo's Spaghetteria
Previously (Continued):
#91: The Michael burger at Michael's Bar & Grill
#92: Fried egg and ham toastie at the Schlafly Tap Room
#93: Bavarian chips with Welsh rarebit at Dressel's
#94: Onion soup at Brasserie by Niche
#95: Baby-back ribs at 17th Street Bar & Grill
#96: Kingshighway burger at the Royale
#97: Gyro sandwich at South Grand Gyro Express
#98: Carne asada tacos at El Paisano (Watson Road)
#99: Pretzel bites at Joey B's on the Hill
#100: Hot and sour soup at Shu Feng Restaurant
Support Local Journalism.
Join the Riverfront Times Press Club

Local journalism is information. Information is power. And we believe everyone deserves access to accurate independent coverage of their community and state. Our readers helped us continue this coverage in 2020, and we are so grateful for the support.

Help us keep this coverage going in 2021. Whether it's a one-time acknowledgement of this article or an ongoing membership pledge, your support goes to local-based reporting from our small but mighty team.

Join the Riverfront Times Club for as little as $5 a month.
Euclid Media Group, LLC
Read Our Sister Publications