This is part two of Robin Wheeler's Chef's Choice interview with Lou Rook III of Annie Gunn's. To read part one, click here.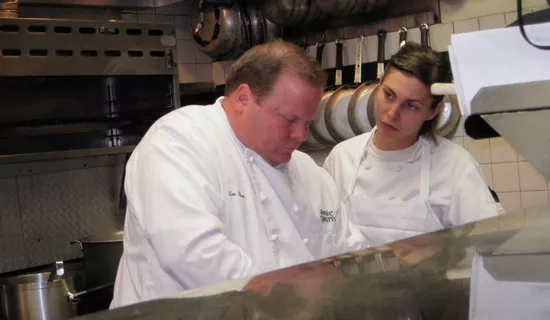 Robin Wheeler
Chef Lou Rook III in the Annie Gunn's kitchen with Samantha Beard.
Every other year chef Lou Rook spends a week cooking at Eberle Vineyards during the Paso Robles Wine Festival.
The day before he traveled to this year's festival, Rook outlined his plans. "We'll fly in [Tuesday, May 18], take a day of travel to get there and get organized. Then Wednesday we get up and harvest all the vegetables ourselves [at Windrose Farms] for the dinner, then we finish writing the menu.
"On Thursday we cook for twelve hours and Friday's the dinner." (It takes place in the vineyard and features multiple courses and hors d'oeuvres.)
"Saturday's the day of the actual festival, so we go taste wine, then Sunday we do the barbecue." (That'd be a barbecue in the vineyard for roughly 1,000 people.)
"It's kind of a crazy deal but fun. It's what it's all about. It's hard work, and you're tired, and you come back beat up, but it's what we're here for."
Rook didn't have time to answer Gut Check's questions till after his San Robles whirlwind.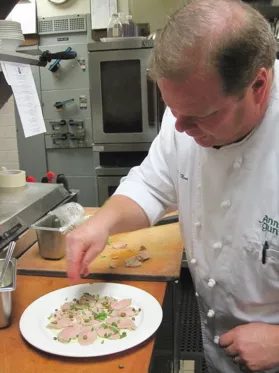 Did your family cook when you were a child? If so, what meals stand out? My family cooked a lot. I think one of my favorite memories, and which I still enjoy today, is my mother's spaghetti and meatballs.
How old were you when you started cooking? I started my cooking evolution at nine.
What was your first kitchen job? At my family's old-fashioned root beer stand [King Louie's in Wood River, Illinois].
Did you attend culinary school or college? I received a B.A. in food service and lodging management from the University of Missouri, and an associate's degree (AOS) from the Culinary Institute of America at Hyde Park.
What do you eat? Very simple comfort foods: roasted chicken, grilled steaks, anything pork, basic starches and vegetables.
We'd be most surprised that you eat ______. ramen noodles.
What do you cook at home? We keep it somewhat simple but fresh and good. With all of the activities, it has to be quick.
Three favorite restaurants in St. Louis, besides yours? Tony's, Paul Manno's and Cardwell's Frontenac.
Local chef who most impresses you? Kevin Nashan of Sidney Street Café. I think he has incredible passion and can really bring it!
Favorite restaurants elsewhere? I have been very fortunate to have dined out quite a bit and I have quite a few favorites: Artisan in Paso Robles, Cyrus in Sonoma, Greystone Napa Valley, Nomi in Chicago, Balthazar New York, Booches in Columbia, Bluestem Kansas City and Lou Mitchell's Chicago, just to name a few.
Your favorite food city? Has to be Chicago.
Most essential ingredient in your kitchen? Thyme.
Favorite local ingredient and where you get it? We have so many sources for local products. Tomatoes, greens, beets, summer squashes, local fruits and fresh proteins.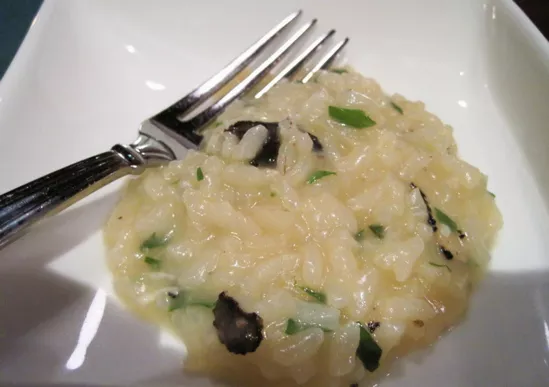 Robin Wheeler
Chef Lou Rook III's truffle risotto.
Five words to describe your food? Wholesome, fresh, original, genuine and creative.
One food you dislike. Probably my least favorite is citrus -- but we do a lot with it.
One food you can't live without. STEAK.
What's the first rule for your kitchen staff? Show up prepared, neat, clean, orderly and ready to rock.
What ingredient will never be allowed in your kitchen? PROVEL CHEESE!
Your best tip for home cooks? Use recipes as guidelines and always taste your food.
Your favorite after-work hangout? Happy's Longstreet Bar and Grill.
Favorite kitchen tool. My knives.
What's next for you? Keep moving forward, keeping Annie Gunn's and the Smokehouse Market fresh and innovative. And writing a cookbook.
What inspires you? My inspiration comes from food, family, friends and music.
Chefs who inspire you? Daniel Boulud. He never gets stale and keeps moving forward.
Proudest professional moment? Cooking at the James Beard House.
Favorite music to have in the kitchen? We don't allow music in the kitchen, but if we would it would be Dave Matthews.
What's on your pizza? I am not picky
What's in your omelet? Gruyère, spring garlic and Ozark Forest mushrooms.
What are you drinking? Maker's Mark, craft beers and dry rosés.
Most difficult lesson you've learned in this business? The incredible commitment it takes to hopefully be successful. Nothing is guaranteed, no matter how good you are!
When did you know for sure that the chef's life was for you? I decided my second year of college it was either being a restaurateur or a football coach/teacher -- and here I am.