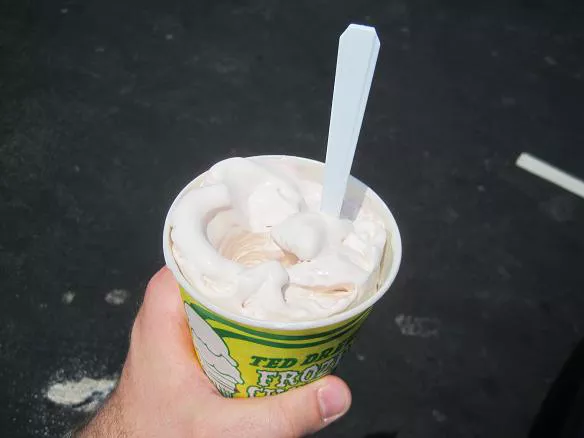 Ian Froeb
John Rooney lied to you.
Welcome to When Bad Dishes Happen to Good Restaurants, in which Gut Check writers, their hearts heavy, note when favorite local establishments have gone astray.
If you listen to Cardinals broadcasts on KTRS, the Big 550, you've probably heard Mike Shannon and John Rooney exhorting you between pitches to try the new "Pomegranate Concrete" at St. Louis institution
Ted Drewes Frozen Custard
.
Come to think of it, I can recall only Rooney doing the spots. At any rate, Rooney calls the new flavor "refreshing" and ends with the classic Ted Drewes tagline: "It really is good, guys." (Unnecessary pause.) "And gals."
No. No, it's not.
The pomegranate custard is a very pale shade of pink. The concrete
is
cold, so on an afternoon as sticky as this one, it is, initially at least, refreshing.
So far, Rooney, so good.
The first couple of spoonfuls have a slight sourness, not unlike plain yogurt. And, OK, maybe a hint of pomegranate's distinctly tart flavor.
Gradually, though, with each subsequent spoonful, the custard's tartness turns into a metallic tang reminiscent not of pomegranates -- or really anything you'd want to flavor frozen custard so thick that the cashier can turn it upside down without any spilling out* -- but of that grade-school science trick where you stick one end of an unfolded paper clip into the cut side of a lemon and then touch the other end of the paper clip to your tongue.
This is exactly like that, except there's no science teacher to give you extra credit or sweet, red-headed classmate to fall in love with you for being the volunteer brave enough to stick an electrified paper clip in your mouth. Instead, there's only the shock that something edible could taste so metallic, and as you dump the half-finished concrete in the trash, you might find your tongue probing the sites of adolescent cavities, making sure no silver fillings have fallen out.
So how about this, Rooney: Let me take care of
the food recommendations
, OK? You stick to Cardinals play-by-play.
Except when Brendan Ryan's at the plate. I'll grant that even a Ted Drewes pomegranate concrete is better than one of his at bats.
* - The cashier forgot to do this, actually.