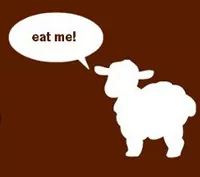 Every spring for the past four years, Slow Food Saint Louis has staged Lambstravaganza, a multi-course dinner showcasing the lamb raised by Dave and Barb Hillebrand at Prairie Grass Farm in New Florence.
For this year's event, which takes place at the farm (located about halfway to Columbia on I-70) on Sunday, June 6, Slow Food STL has assembled a roster of local chefs led by Monarch Restaurant's Josh Galliano, which includes...
Steve Caraveli (SLeek), Gerard Craft (Niche), Anthony Devoti (Five Bistro), Kevin Nashan (Sidney Street Café), Chef John (Entre:Underground), Rob Uyemura (Yia Yia's Euro Bistro) and Kevin Willmann (Farmhaus). Beer comes via Schlafly, wine from Les Bourgeois Vineyards.
Tickets cost $99.99 and are available through May 25. Procrastinators take note: After that date, the price goes up 30 bucks for any seats that remain.
Proceeds from the event will give a boost to Slow Food's Micro Grant Program, which helps local farmers and ranchers grow sustainable, heirloom produce and heritage varieties of livestock.
For more info, check out the Slow Food website.