Update: The ice cream episode of Foodography airs on the Cooking Channel on Monday, May 31, at 7 p.m., not 8 p.m. as previously reported.
On May 31, cable's Fine Living Network will give way to the Cooking Channel, a more instruction-intense sibling of the Food Network. St. Louis cake queen Kerry Soraci of I Scream Cakes will have a part in the channel's first night of prime-time programming, on the food history show Foodography.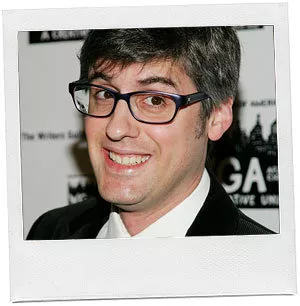 Hey, Mo! Mo Rocca will host Foodography on the spankin'-new Cooking Channel
Says parent company Scripps Networks of Foodography: "Food has shaped the way our culture and world have evolved around us. Hosted by CBS Sunday Morning's Mo Rocca, Foodography showcases these cultural food themes by taking a look into the past, present, and future of iconic, classic, and trendy foods."
The first episode, airing in the ballyhooed 8 p.m. time slot, features the history of ice cream. A perfect fit for Soraci, who crafts cakes from her special-formula ice cream.
"I'll be demonstrating sculpting a deer-head cake out of ice cream, then painting it with ganache, and making the extras -- antlers, ears, nose and eyes -- out of chocolate modeling clay," Soraci tells Gut Check. "They also did a little interview where I talk about how I got started making ice-cream cakes, the cake images, including how tattooing has influenced them, and a little bit about the ingredients."
For the show, Soraci didn't get to use her own raw materials, and therein lay a problem.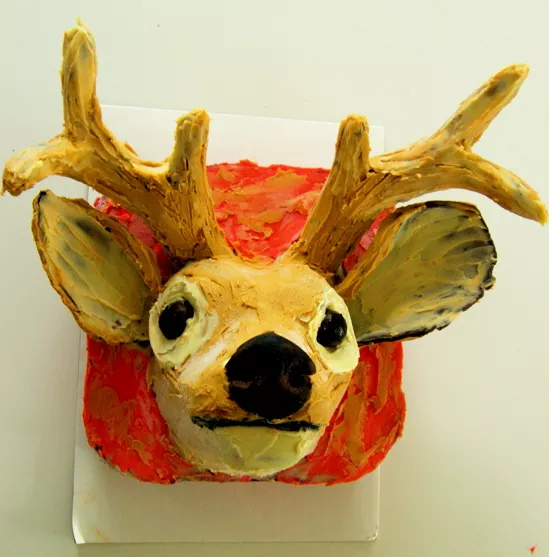 Kerry Soraci
Deer in the spotlights: St. Louisan Kerry Soraci's cake artistry will be on display on the new Cooking Channel on May 31
"I don't make any ice cream or cake for the show, I only do the art-making part of my business," she says. "For the record, store-bought ice cream is not good for what I do. It's too soft and whipped. That posed some problems. Hopefully, it will look OK on camera."
This past August Soraci's cakes appeared in the window at Iron Age Tattoos, which might have led to this big break.
"One of the producers for the Cooking Channel, Kyle Hepp, was researching the show online and found an article about me," she says. "That's all I know. It could have been one of the articles written by you guys, actually! I think the RFT's online article of my last tasting was reposted on Apartment Therapy's The Kitchn, so maybe it was from that."
Gut Check will live-blog Soraci's television debut. If you want to watch it for yourself, the Cooking Channel will be Channel 128 on Charter, 456 on AT&T U-Verse, 232 on DirectTV and 113 on Dish Network.