Welcome to Girl Walks into a Bar, a weekly Gut Check feature that spotlights local bars and bartenders. This is part one of Alissa Nelson's two-part profile of Blueberry Hill bartender James Duncan. Part two, featuring a video of Duncan mixing a cocktail, is available here.
It's his day off, but James Duncan has graciously volunteered to come in to work at Blueberry Hill to shake up a Black Nasty, a deadly drink of his own invention. He positions the bottles at the bar meticulously, asking if he's doing all right. A group watches from the other side of the bar, whispering and nudging one another.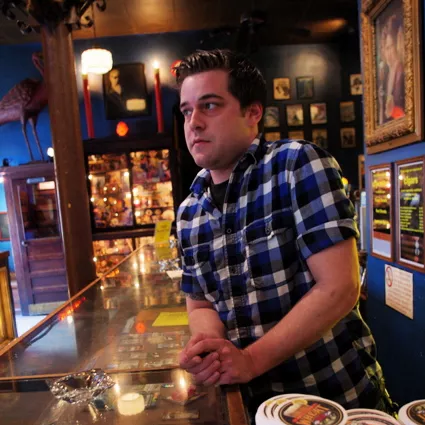 Only after a friend walks past nonchalantly, shirtless, does Duncan visibly relax.
Despite years in the industry, between early stints in county corporate restaurants, a move to the Pin Up Bowl and a steady gig for the past four years at Blueberry Hill, Duncan is nervous about being the center of attention. Yet as soon as he starts talking to a customer and mixing a drink, he's calm and collected, listening with the cocked head of a bartender who says without words, "I hear you, man. And clearly, you need this syrupy drink of doom."
And now, a Q&A...
In three words, describe your bartending style. How about another?
Favorite drink to drink? Guinness.
Favorite drink to make? Anything on the rocks.
Drink you hate making? Anything with more than five liquors.
What makes you ignore a customer at the bar? Anything somebody starts off with "Hey!"
Can you spot trouble as soon as it walks in? Not always, but it usually involves Mardi Gras beads.
Best and worst song on the jukebox? Best: Billy Squier's "My Kind of Woman." Worst: that William Hung song.
Best and worst thing you've ever seen happen in your bar? Usually any kind of injury is not a good sign. Any nudity has the potential to be the best or the worst thing ever. It's usually the worst, since people who want to get naked shouldn't get naked.
How do you keep yourself occupied on a slow night? I like to sample our more flavorful alcohols.
How did you get your start? In high school I started working at pizza places and restaurants in the county. I started bartending at corporate restaurants and then moved down to Pin Up Bowl and Blueberry Hill.
Where are you most likely to be found when you're not here? Flamingo Bowl, Pin Up, Eclipse, Cafe Eau.
Best hangover cure? The best one -- which is not always the best idea -- is to just drink more.
Worst pickup line you've witnessed? Is there any good one?
Most unusual liquor you've encountered? We just got whipped cream vodka in. I haven't even tried it yet -- and I'm kind of nervous to.
If you could start a band, what kind of band would you start? If I wanted to start a band -- a real band -- it would be a marching-band-meets-jazz-band.
Like a New Orleans funeral band? That sounds perfect.
Best and worst drinking holiday? For me any holiday is a good drinking holiday.
Biggest tab you've ever seen? Usually any tab that my friend J.R. [from Cafe Eau] starts. He's one of those guys who will buy shot after shot after shot. Around $500, give or take.
Drunk food of choice? Usually from any restaurant that's open past two o'clock.
Three adjectives that describe your bar. Classic. Salvaged. Unique.
My bar is the only bar in St. Louis where... Chuck Berry plays on a regular basis.
{to be continued...}