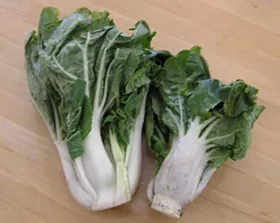 Bok choy, lookin' innocent. Don't be deceived.
From MSNBC, via Gawker, comes a truly odd story:
A woman nearly died after eating only raw bok choy
-- two to three pounds a day -- for several months. Apparently, the 88-year-old woman thought it would help her control her diabetes.
It turns out that raw vegetables in the Brassica rapa family, which includes bok choy, release an enzyme called myrosinase, which triggers a process that puts the brakes on thyroid function.

Cooking deactivates the enzyme, but by eating so much bok choy raw, the woman sent her system into a severe form of

hypothyroidism

. She went into respiratory failure and then into a myxedema coma, a rare and usually deadly complication of too little thyroid hormone.
Oh, sure, the food police warn us about transfats and salt and meat, and Michael Pollan wants us to eat "mostly plants." But give the humble Chinese cabbage a smidge more attention than normal and
BAM!
you're at death's doorstep.
I'm on to you, vegetables. Consider yourselves warned.