This is part one of Robin Wheeler's Chef's Choice interview with Lou Rook III of Annie Gunn's. Part two is available here.
This week, shallow flood water saturated a field on the north side of Highway 40 in Chesterfield, a reminder of how the bustling suburb was beaten into submission by the deluge of '93.
Lou Rook III of Annie Gunn's remembers it as a time of transition that was a vital step in the path of his career. "This was my favorite place to come on my day off. I was opening Harry's downtown, so I started bringing my managers and bartenders to see how this bar operated.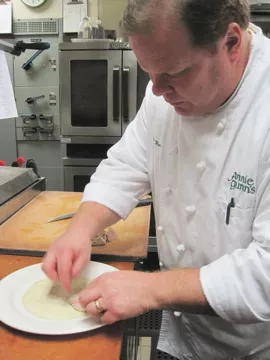 "One day I was working, and they said, 'Did you hear that Annie Gunn's flooded?' I said, 'Oh, they'll be open in a few days,' because when you're in an opening you're submerged. They said, 'No, you don't get it. There's thirteen feet of water up the windows.
"Tommy [Thom Sehnert, Annie Gunn's owner] came in for lunch one day at Harry's, and we talked. About a week later we met at O.B. Clark's and had a couple of cold Budweisers and finalized the deal. That was August. I started in October and we reopened on March tenth of '94. It took ten months to get everything up and running, which was fast. Been doing it ever since."
Such longevity is rare in relationships between chefs and restaurant owners, but it suits Rook. "Thom and Jane [Sehnert, Thom's wife] are the owners, but they've allowed me to - other than having the financial responsibilities - it's pretty much my game. He and I work great together. We're both Irish so we have moments, but we're both out for the same thing - what's best for the customer, and we both know what each others' wants and desires are. We just work great together. He'll let me go for my goals without saying, 'No, I don't want to do that.' And there are things that we haven't always agreed on, but at the same time we've both been able to aspire beyond what are dreams were, because this restaurant is just amazing."
Prior to Annie Gunn's, Rook co-owned Grappa, a café in the Central West End, in the early 1990s. Before that he worked at Cardwell's in Clayton after graduating from the Culinary Institute of America in Hyde Park, and the University of Missouri. "I decided I was either going to be a teacher and a football coach, or I was going to be a chef. I ended up being a chef. But then you're still a teacher, and you're definitely a coach," he says.
Rook was well-rooted in the culinary world before he made that decision. When he was nine years old, his father, Lou II, gave up his job as a welder to purchase King Louie's, a root beer stand in Wood River, Illinois. "As time went, he got a little bored with that business, so he opened a catering company, then a white-tablecloth restaurant, then he sold those and became an executive chef at Sunset Hills Country Club," Rook recounts.
During the reopening of Annie Gunn's, Rook's professional relationship with his father came full circle. "We'd just opened. I was pretty much working around the clock, training new guys. He [Lou II] had left his position at the country club. Thom and I were driving somewhere, and he said that we needed to get somebody to help me in the daytime. He said, 'What about your dad?' I said that he's not going to be cheap. He's a chef, blah blah blah. He said, 'We can't afford not to take a look.' So we hired him in June of '94."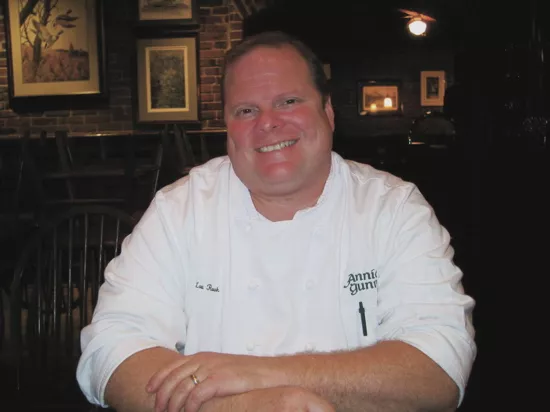 The elder Rook, who turned 70 this year, is still on the job, arriving at the restaurant at 6:30 every morning, working 45 to 50 hours a week. "I call him around 7:30. We go over what we're going to run for specials. It's been awesome being able to work together for as long as we have. Most people don't get to do that. He does a phenomenal job.
"It's such a great moment every day when Dad and I, on the phone, take inventory from the night before -- what's coming in, what our farmers are bringing if we're getting a delivery, and right then it's, let's create these dishes," Rook goes on. "It's the same way at night when the dinner chefs come in. The cool part about that is it keeps the ingenuity alive, keeps the wheels spinning, and also helps keeps us working, guessing and interacting. We're learning on a day-to-day basis."
Despite this, Rook is hoping his three daughters will pursue something different. "I'm trying to keep them away from the chef world. I love it, but you've got to be really into it. It takes such a commitment. If you're not committed to it, it's not going to be the same. You have to give up a lot to be successful in this business."
What has Rook sacrificed for the business? "Well, I was divorced once. I swore to myself I'd never let that happen, and this is going to sound like a horrible statement but I love this business. I love being a chef. I love running kitchens and restaurants. You give up personal time. You give up friends. You miss weddings. You don't have regular days off. You give up holidays. A good friend of mine has said that the restaurants are like a cult. We live kind of an opposite life of everybody else. It's not far from that."
{to be continued...}
Annie Gunn's 16806 Chesterfield Airport Road 636-532-7684