...And probably put yourself in the running for son or daughter of the year.
In what has to be the only contest that should make your dad incredibly happy but also slowly kill him, the title of
"Oscar Mayer Bacon Sizzling Dad"
can be bestowed upon your father just in time for Father's Day (Sunday, June 20). Dad will also be awarded $5,000.
The contest rules are pretty shrewd -- to sign up, one has to first "Like" Oscar Mayer on
Facebook
, thus getting the brand more fans, and then contestants have submit the entry on the Oscar Mayer website. Still though, bacon. Here's
a screenshot of the contest.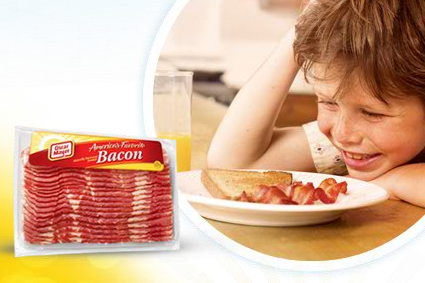 Here's a kid absolutely in love with bacon. Just look at him.
Here's an excerpt from the contest website, which includes this curious phrase (in bold); not sure anyone has ever said that before in human history.
If the analogy "Dad is to the family like bacon is to breakfast" rings true, then share how this is true of your Dad and make our hearts sizzle with a taste of why your Dad is deserving of the prize.

Here's how to enter, according to this
press release
:
Submit a photo of your dad with a caption that is no more than 50 words, explaining why you dad should win, why he's great, why he loves bacon, etc. The requirements are pretty as to what you can write about. Participants have to enter at
Facebook.com/OscarMayer
between today (May 14) and June 4.
Here's a quotation from the press release that really drives the point home:
"Great-tasting bacon is at the table of memorable moments every day, especially for family holidays like Father's Day," said Brand Manager J.P. Bittencourt. "We're excited to pay tribute to Dads everywhere who we know are as important to the family as bacon is to breakfast."
Related Content:
Photos: Making the World's Longest BLT at Iron Barley, 8.9.09
Top Ten Things So Horrible That Even Bacon Can't Improve Them