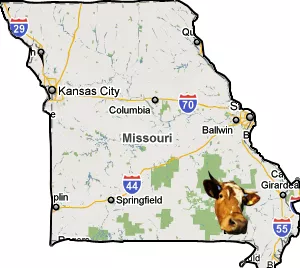 The cow head represents Doniphan, Missouri, locaton of Rain Crow Ranch, which supplies grass-fed beef to health food mega chain Whole Foods Market.
Whole Foods recently announced all of its more than 280 stores now have
grass-fed beef for sale
, but grass-fed evangelists who operate one Missouri ranch have been selling the stuff to the natural food chain since 2007.
Rain Crow Ranch
, in Doniphan, Missouri (
map
), already has its beef for sale in St. Louis restaurants -- even warranting a mention in this review of CityGarden's
Terrace View
. But as regular Whole Foods customers already know, the southern Missouri ranch has had its beef in meat cases there for years.
Kate Klotz, a rep for Whole Foods, says Rain Crow Ranch beef is now on sale in the chain's 31 Midwestern stores.
The ranch is operated by Mark and Patricia Whisnant, the latter of whom is president of the
American Grassfed Association
and a veterinarian.
The Whisnant family (Mark and Patricia, their three sons and four employees) look after 1,200 head of cattle,
according to this report
.
In a blog post from 2008, Whisnant writes of telling the "grassfed story" to new audiences of commercial buyers and consumers alike, and the new roles she took on to do so.
Yes, we are farmers and our favorite place is on the farm but this week we will be wearing our marketing and cooking hats as we talk the grass fed story in Boston. Producers who take the plunge to market their products direct must often assume the role of the jobs that are usually in the middle between the farm and table.
Here's the
full Whole Foods press release
, and for you grass-fed chefs, Whole Foods provides these tips on eating the lean beef:
* Since it's leaner than grain-fed beef, grass-fed beef usually takes about 30% less time to cook, so pay attention to make sure you don't overdo it. You can test it with a meat thermometer.
* Make sure you aren't starting with cold beef straight from the refrigerator. Starting ice cold can result in poorly cooked meat.
* When using grass-fed beef in your favorite recipes, lower the cooking temperature of your oven by about 25°F. The cooking time will stay about the same.
* When cooking on the grill, let the flames burn down more than you do for other meat.
* Always use tongs, never a fork, to turn your beef. Piercing causes precious juices to be lost.
* Remember to let the meat rest to allow the juices to redistribute before slicing.