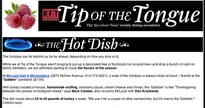 Sign up for Tip of the Tongue here.
Gut Check not providing enough dining tidbits for you?
Consider subscribing to Tip of the Tongue, the Riverfront Times' weekly e-mail dining newsletter.
This week, find out how to raise a glass to the new bellini bar at Remy's Kitchen & Wine Bar and get details on Iron Barley's seventh anniversary celebration.
Subscribing is easy. Visit this page, enter your e-mail address and sign up for Tip of the Tongue as well as (if you wish) our weekly music and events newsletters.