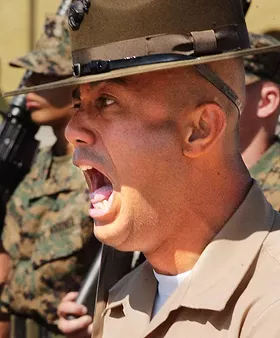 Boot camp? Or the kitchen of your favorite restaurant?
An interesting debate has started on the
New York Times
Diner's Journal blog:
What constitutes crossing the line when a diner has an issue with a restaurant or, in this case, the head chef?
The situation is this:
Times
writer
Ron Lieber
was dining at
Restaurant Marc Forgione
in New York City. While Lieber was eating, Forgione (son of the acclaimed chef
Larry Forgione
, who operates
An American Place
here in St. Louis) chewed out an employee -- "loud, sustained, top-of-lungs yelling," in Lieber's telling -- in the kitchen. Lieber says the dressing-down made the entire dining room uncomfortable
The object of Forgione's anger delivered Lieber's amuse-bouche and then returned to the kitchen for another tongue lashing.
Lieber, meanwhile, reached a breaking point.
And without much forethought, I pushed back my chair and walked through the open doorway of the kitchen.

I don't remember exactly what I said, though I did not raise my voice to the point beyond where people in the kitchen could hear it. I told the chef that his behavior was making me and others uncomfortable. I let him know that I thought it was mean. And I asked him to cut it out. I don't remember exactly what he said in response, but whatever it was, I found it irritating enough that I reminded him that I was paying to eat there and told him again to stop berating his staff at that volume.

Shortly thereafter, Forgione came to Lieber's table, apologized and told Lieber and his party they were no longer welcome at the restaurant. As in, leave now.
As I write this, there are nearly 400 comments on Lieber's post. Some applaud Lieber for telling Forgione that he was ruining the dining experience. Others criticize Lieber for entering Forgione's kitchen. Still others suggest that neither man handled the situation as he should have.
For all my restaurant meals, I've never experienced a situation such as this. Frankly, given my m.o. as a critic, I wouldn't say or do anything
at the restaurant
if something like this made me uncomfortable during a meal -- but I sure as hell would mention it in my review.
If I was dining as a civilian (that is, on my own dime, not the paper's, and not for a review) and the yelling was especially prolonged or abusive, I might mention my displeasure to a manager and/or resolve never to patronize the restaurant again. I certainly wouldn't have taken the extra step that Lieber did. Not that I don't understand his impulse, but I can't imagine how his action could lead to any other reaction than Forgione's.
(Lieber might have been lucky, really. In someone else's kitchen, Lieber might have been punched out.)
Readers, what would you have done in this situation? Chefs, what about you? And also, chefs, what place, if any, does "dressing down" have in your kitchen?