This is part two of Robin Wheeler's Chef's Choice interview with Eliott Harris of Miso on Meramec. To read part one, click here. Part three, a recipe, is accessible here.
Did your family cook when you were a child? If so, what meals stand out? My mom is an awesome cook. I'd hang out in the kitchen and watch as a child. Steak Diane was my favorite dish.
How old were you when you started cooking? I started working in kitchens at the age of nineteen.
What was your first kitchen job? Although I worked at my dad and uncle's deli, Duff's was my first actual restaurant job.
Did you attend culinary school or college? I attended SLU, where I received my undergrad in Communications and attended Johnson & Wales in Vail, Colorado, in 1996.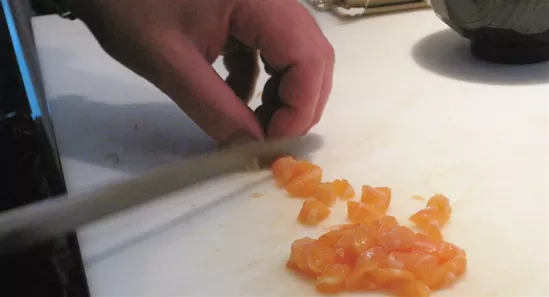 What do you eat? I eat everything. Korean barbecue is probably my favorite when I'm on the west coast.
We'd be most surprised that you eat _____. I love the slinger at Eat-Rite.
What do you cook at home? I mostly fire up the grill at the house. I love a good steak.
3 favorite restaurants in St. Louis, besides yours? Sidney Street, Duff's and Niche.
Local chef who most impresses you? Jimmy Voss from Duff's. He gave me my first real restaurant job. He is passionate about food. Kevin Nashan [Sidney Street Café] is incredibly talented. I had one of the best meals ever there recently.
Favorite restaurants elsewhere? French Laundry in Napa, Boulevard in San Francisco, Tony's Sushi in Miami.
Your favorite food city? San Francisco.
Favorite recent food find? I love Vietnamese sandwiches.
Most essential ingredient in your kitchen? Big-eye tuna. Tuna is the benchmark of any good sushi bar.
Favorite local ingredient and where you get it? Not too many local ingredients. Most things are imported from Japan.
Five words to describe your food? Fresh, creative, bold, unique and delicious.
One food you dislike. Nato (fermented soybean).
One food you can't live without. Cheese. I love all types.
What's the first rule for your kitchen staff? Make sure your knife is sharp before you start the shift.
What ingredient will never be allowed in your kitchen? Escolar. Most places sell it as "white tuna," which it's not. It was banned from both Japan and Italy in the '80s.
Culinarily speaking, St. Louis has the best _______. Little non-chain mom-and-pop restaurants.
Culinarily speaking, St. Louis has the worst _______. Nothing comes to mind.
Culinarily speaking, St. Louis needs more _______. Good Mexican restaurants. Your best tip for home cooks? Less is more.
Your favorite after-work hangout? My bar at home.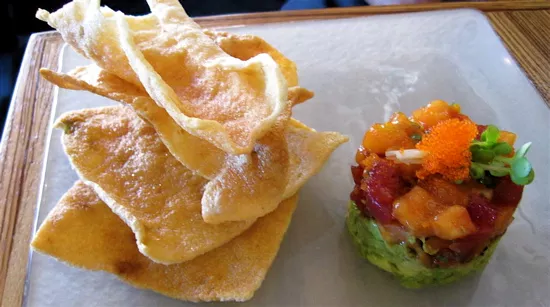 One person, dead or alive, you'd love to cook for? I'd love to cook for my father. He passed away right before my career really took off.
Favorite kitchen tool? My yanagi (Japanese knife). It's in my hand 90 percent of the time I'm at work.
What's next for you? My own restaurant someday.
What inspires you? My family inspires me. My wife is my biggest fan. We met while I was working behind a sushi bar in SF.
Chefs who inspire you? All chefs inspire me. This is a hard business to be in. Lots of hours, nights and weekends. It's not as glamorous as television makes it seem.
Favorite cookbooks? Saveur magazine is my favorite. It's like the National Geographic of food.
Proudest professional moment? I'm just proud to be creating food that people enjoy.
Favorite music to have in the kitchen? Widespread Panic or the Grateful Dead.
What's on your pizza? Pepperoni.
What's in your omelet? Lots of cheese.
What are you drinking? Fernet.
What's the most surprising food you've eaten? Nothing that crazy.
What's the best request you've gotten from a customer? Had a customer in SF give me an engagement ring to present to his girlfriend in a rose I made out of tuna. She said yes.
Most difficult lesson you've learned in this business? You can't appease everyone. Stay true to yourself and your style. This industry isn't for everyone.
When did you know for sure that the chef's life was for you? I knew at an early age despite family friends in the industry telling me to run the other direction. It's a lifestyle as much as a job.
{to be continued...}