While South Africa is no longer entirely unknown as a wine-producing nation, many know it only by the Goats do Roam line of value-priced varietal wines. Those can be decent, despite the punny name, but the country actually has a long wine tradition.
The Dutch brought a passion for the grape when they arrived, and documented production dates back to the late 1600s. A large wine trade was built up with England during one of its many wars with France, but the industry dropped into international obscurity during apartheid.
The view near Stellenbosch, in South Africa. Would you buy wine grown near here? Gut Check would!
When it re-emerged, the world discovered a unique voice built on three varieties. For white, South Africa offered sauvignon blanc and steen, the local name for chenin blanc. On the red side, it featured the obscure red grape pinotage, a cross between pinot noir and cinsault (a blending grape from the southern Rhône) that is hardly grown anywhere other than in South Africa. Other international varieties have moved in as export efforts have expanded, with credible versions of syrah, merlot and chardonnay entering the market.
Today we're giving steen a go...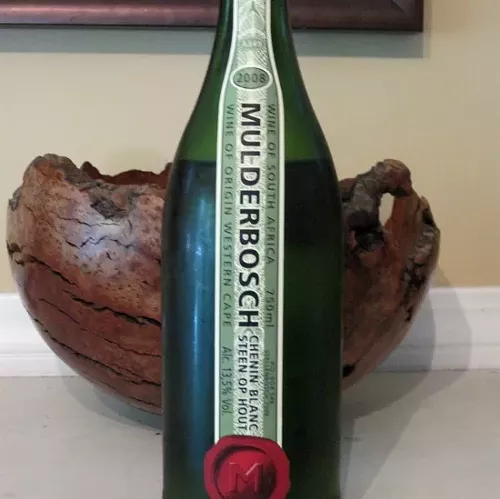 2008 Mulderbosch Steen Western Cape ($10 - Costco)
Pale gold. Smells of ripening melon, spiked with a hint of beeswax. The wine is very full-bodied and tastes rich, but there's virtually no fruit, and what there is tastes indistinct and wishy-washy. This wine wouldn't know complexity if it were administered via a Taser. After a while all you can discern is the alcohol. Disappointing, even for $10.
The verdict: Swill
OK, today's selection is a dud. But there are some really nice wines coming out of South Africa. In fact, Mulderbosch makes a very, very good sauvignon blanc, which you can find locally.
In terms of style, South African sauvignon blancs resemble the intensely floral wines that come out of New Zealand, though a little more understated (which can be a fine thing). Pinotages are a story unto themselves -- it seems wine drinkers either love the grape or hate it -- and Gut Check will keep an eye out for one of those to try.
"Thrill or Swill?" aims to expand wine drinkers' horizons -- including Gut Check's. If you have been curious about a grape or wine and want Gut Check to try it, let us know via the comments thread. If we can find it (and if we can afford it), we'll buy us a bottle, yank the cork and report back.