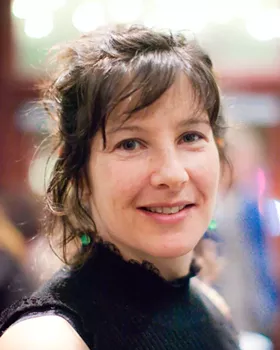 Dustin Meyer Photography
Ana Sofia Joanes, director of Fresh
As posted earlier today, the food documentary
Fresh will be screened at 7:30 p.m. this evening
in the Crown Room of
Schlafly Bottleworks
(7260 Southwest Avenue; 314-241-2337).
Gut Check had a chance to speak with director
Ana Sofia Joanes
about her documentary, which focuses on those, like farmers
Joel Salatin
of Polyface Farms and
Russ Kremer of the Ozark Mountain Pork Cooperative
, who are offering ways to change how we interact with our food system.
Joanes explains that Fresh was born of her frustration and despair when confronting the problem of global warming.
"I realized all individual actions were powerless to do anything about the crisis we were facing. The problems are so overwhelming and complex. But I also recognized the fallacy of the position when you feel you are a passive observer. So I started researching and realized that people are offering solutions. When I became aware, I was inspired."
As Joanes explains it, food was a natural subject for her focus, "a microcosm of all our problems." However, she had no desire to make another
Food, Inc.
, the Oscar-nominated documentary that discusses the uncomfortable and, in many cases, unsafe truths behind our industrial food system.
"[Both films] have their place," says Joanes. "We need to expose the problems. The majority of Americans have no idea that what they're eating is harmful.
Food Inc.
has raised awareness.
Fresh
can provide this ray of hope."
One of Joanes' subjects is
Russ Kremer
, the Frankenstein, Missouri, hog farmer who founded the Ozark Mountain Pork Cooperative. In her multiple-award-winning feature article,
"The Pope of Pork,"
former
Riverfront Times
staff writer
Kristen Hinman
detailed Kremer's remarkable transformation from an antibiotic-dependent, CAFO-using farmer into an evangelist for sustainable, humanely raised pork. The impetus for his change? After being gored by a boar, he developed a superbug infection that nearly killed him.
It was this story that Joanes found so compelling. "I think I choose stories because they need to have an emotional impact. I could give you facts and figures about the sheer number of antibiotics [that farmers use]. You'll be concerned for five minutes and that's it. [If I tell you] I ended up on an IV drip in the hospital and nearly died, then you start listening from a different place."
Joanes continues, "What's amazing is how intelligent Russ is, how much of a leader in the community he is. He started the Ozark Mountain Pork Cooperative. Now they have a second processing plant and a store [
Sappington Farmers' Market
] that the farmers own."
"Farmers are heroes," Joanes concludes. "They are really bright and thoughtful people."
The screening tonight at Schlafly Bottleworks is part of
Fresh
's grassroots distribution process. Anyone can visit
the film's website
and
request a license to host a public screening
, even for friends and family.
Joanes says of this distribution model, "While I was making
Fresh
, I was very aware that many independent movies never see the light of day. I made fresh because I care. I want it to be useful. What would make this move helpful to the people in the trenches? I really deveopled the movie thinking of it as a platform. It's a tool and I have to make it available.
"The response has been incredible."