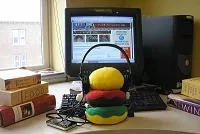 Gut Check dishes on our favorite St. Louis food blogs.
Show Me Vegan: Lisa made Veganomicon's Quinoa Salad with Black Beans and Mango.
Cupcake Project: Stef announced the 2010 Ice Cream Cupcake Roundup and made Gingersnap Cookies.
One Hot Stove: Nupur made a Tomato Omelet.
Rhubarb and Honey: Kimberly embraced greens with a Celebrating Spring Salad.
St. Louis Eats and Drinks: The Pollacks visited Stellina Pasta Cafe.
A Veggie Venture: Alanna shared a recipe for Homemade Greek Salad Dressing.
FamilyStyle Food: Karen made Popovers with Black Pepper, Chives and Parmesan.
Sounding My Barbaric Gulp: Kelly made Roasted Mustard Rabbit.
Andrew Mark Veety: Andrew announced the Church of Burger will convene at Michael's Bar & Grill in May.
Feast: George posted a Mother's Day reservation reminder and suggestion.
Iron Stef: Stephanie made Pasta with Anchovies, Garlic, Etc.
Sauce: Byron reported on a new Fro-Yo location and Ligaya reported on Monarch's new menu.