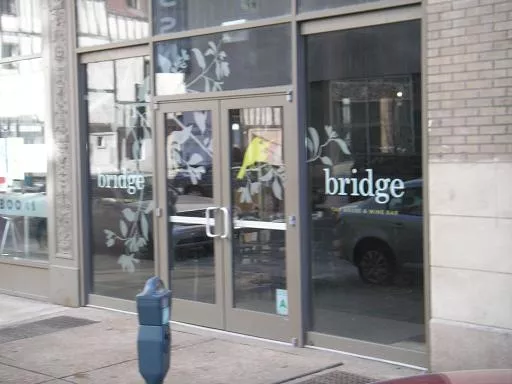 This week I visit the
Bridge Tap House & Wine Bar
(1004 Locust Street; 314-241-8141), the new venture from restaurateur Dave Bailey of
Baileys' Chocolate Bar
and
Rooster
. Follow me after the jump for a sneak preview of my review.
On a Monday afternoon downtown, a woman stands at a sidewalk grill on Locust Street, flipping burgers. The heady aroma of smoke and seared meat wafts around us, a welcome respite from the rank exhaust belching from workday traffic. The sight is remarkable enough, given the city's pathetic lack of street food, but later we learn that the burgers are made from grass-fed Missouri beef, an unexpected touch of the Slow Food ethos in the midst of downtown's lunch rush.

Visit
the RFT restaurant page
late tomorrow afternoon or check back here Wednesday morning to see what I think.