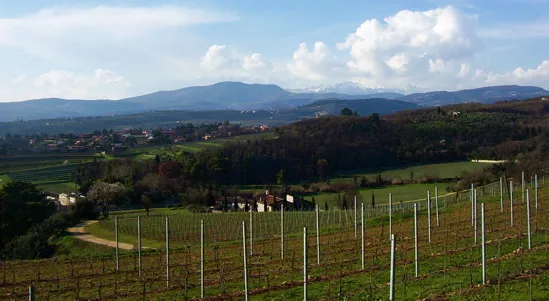 When is a Valpolicella not a Valpolicella? When it costs nine bucks and contains a generous measure of merlot.
Given that we live in the United States, you'd think U.S. wines would dominate the value category -- shorter shipping, no currency fluctuations, no import duties, etc. -- but they don't. In fact, cheap U.S. wine tends to be some of the most uninteresting out there. At best you get a technically correct, clean wine, but you're not apt to find anything with character for less than a ten-spot (unless you're of the opinion that reeking of oak chips = "character").
For our money, the best bangs for your value bucks come from Europe. France, Italy and Spain all crank out truly engaging offerings in the $10 range. While Spain has been many a critic's value darling, most of the red Spanish cheapies are based on grenache, which has a tendency to get very ripe, masking whatever character might be lie beneath.
Italian reds offer better odds. Somehow, wines from Italy always seem to have an ineffable Italian flavor to them -- a bit herbal, a bit earthy -- even when they're made from ubiquitous varieties like cabernet sauvignon or merlot.
Which brings us to this week's "Thrill or Swill?" contestant...
2008 Tommasi Romeo Rosso Delle Venezia ($9 - Grapevine Wines & Cheese)
The color is a light, clear red, the aroma a surprisingly complex blend of bright tart berries, with a nice underlying herbal edge. Sniff a while and some richer fruit appears. Like the color, the body's light, yet it packs flavor to spare and finishes with a hint of chalky tannin.
This wine would absolutely kill alongside a good, spicy red sauce on pizza or pasta.
The Verdict: Thrill
Today's wine is a combination of two indigenous Italian grapes -- corvina (43 percent) and rondinella (32 percent) -- and one nontraditional one -- merlot (25 percent). If the merlot were excluded, the wine could be labelled as a Valpolicella, but its presence prohibits the producer from labeling the wine as such under Italian wine law. While Valpolicellas can be lovely, when you're only handing over $9 the merlot's supple richness nicely smooths out those gnarled Italian roots.
This wine definitely has a whiff of volatile acidity, which can turn some people off. It's another one of those smells that people have differing abilities to detect (and different thresholds when it becomes too much). Technically, volatile acidity is acetic acid -- the same acid in vinegar -- but other aroma compounds frequently appear with it, including ethyl acetate (nail polish remover) and acetylaldehyde (fake sour-apple flavor).
In minute quantities, these simply add complexity, particularly high-toned aromatics, to a wine. But to those who are more sensitive (or in cases where the aromas are excessive), they definitely detract. This wine offers a cheap way to find out where you fall on the spectrum.
"Thrill or Swill?" aims to expand wine drinkers' horizons -- including Gut Check's. If you have been curious about a grape or wine and want Gut Check to try it, let us know via the comments thread. If we can find it (and if we can afford it), we'll buy us a bottle, yank the cork and report back.