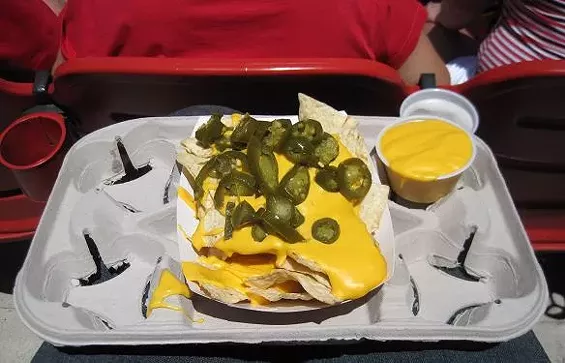 Ian Froeb
Note the plastic-like sheen of the cheese product.
First, let's state the obvious: There is no good food at Busch Stadium. But baseball is essential to life in St. Louis, and food -- greasy, fatty, overpriced as it may be -- is essential to the ballpark experience.

For me, the safest bet are the nachos. Emphatically not the nachos with ground beef, which is squeezed out of a plastic bag into the steam table pan from which it is ladeled. No, I'll take tortilla chips topped with nothing more than "cheese" and jalapeños. How can you resist that velvety cheese product, its plastic sheen, its tang so generic that it makes a Kraft Single seem like the finest Camembert?

I always order an extra cup of cheese because I want to die young there's never enough of the stuff to cover all the tortilla chips. Your mileage may vary.

Busch Stadium
700 Clark Avenue
314-345-9000
$6.25 (nachos)/$2 (extra cheese)

Correction: The original post incorrectly listed the cost of the nachos as $6. The actual price is $6.25. Apologies.

I'm counting down -- in no particular order -- 100 of my favorite dishes in St. Louis. Some are well-known, others obscure. Some are expensive, others dirt cheap. All of them, I guarantee, are delicious. Please do not hesitate to share your own favorites via the comments thread.

Previously:

#86: Lobster bisque at Café Ventana
#87: Calamari fritti at Mangia Italiano
#88: Brisket sandwich at Winslow's Home
#89: Paletas at La Vallesana 2
#90: Spaghetti and meatballs at Sugo's Spaghetteria
#91: The Michael burger at Michael's Bar & Grill
#92: Fried egg and ham toastie at the Schlafly Tap Room
#93: Bavarian chips with Welsh rarebit at Dressel's
#94: Onion soup at Brasserie by Niche
#95: Baby-back ribs at 17th Street Bar & Grill
#96: Kingshighway burger at the Royale
#97: Gyro sandwich at South Grand Gyro Express
#98: Carne asada tacos at El Paisano (Watson Road)
#99: Pretzel bites at Joey B's on the Hill
#100: Hot and sour soup at Shu Feng Restaurant