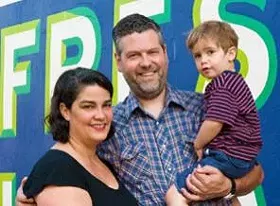 Image source
David Warner and Kristine Cortese, owners of City Feed and Supply, with their son.
Several weeks ago, Gut Check regurgitated (ahem!) news of a food experiment conducted by Corby Kummer, The Atlantic's food writer. Kummer had chefs at an Austin restaurant prepare two identical meals: one with ingredients purchased from Whole Foods, the other with ingredients from Walmart, which has been partnering with local farmer/suppliers. After each course, the guests -- a panel of foodies with refined palates -- would determine a winner.
Much to everyone's shock -- and many people's dismay -- the result was a draw. Walmart won the first two courses; Whole Foods took the entrée and dessert.
What did this mean? Would we have to abandon our prejudices and learn to love Walmart, especially since shopping there instead of Whole Foods could save us money while allowing us to continue to support local farmers?
Nope. Walmart is still evil. So says David Warner in a rebuttal posted today on The Atlantic's website.
Warner, who grew up on a farm in southern Missouri, is now the co-owner of City Feed and Supply, a specialty food store and café in Boston. (It sounds somewhat like our Local Harvest.)
Here's his take on Walmart:
For Warner, "culture and economy cannot be separated." Even though Walmart may get its tomatoes from a local farmer who also sells the same tomatoes at the farmers' market, it's still Walmart. It's still huge, it still dominates every town it moves into, luring shoppers away from smaller stores (like, say, City Feed and Supply) with its promise of lower prices.
Besides, Walmart doesn't care about the farmers the way shopkeepers like Warner do.
He writes:
I choose to purchase and re-sell as much local produce from truly small farms as we possibly can. We do this because we know how hard it is to survive as a farm, we respect the folks who are doing it, and we think the products are of a much better quality than anything else available. We don't do it to maximize profit. We are but a speck of a water strider in Walmart's wake, but I would argue that it is not the quantity of dollars spent that measures care and intent but rather what lies in the hearts of the folks who stand to profit from the transaction. Who can measure the care and intent at the heart of Walmart? Would they or anyone else deny that their primary motive has always been and will always be to maximize profit?
One could argue that one of the main purposes of running a business is to maximize profit, at least if one wants to keep running that business. And that Whole Foods seems to be pretty into the whole profit-earning thing, too. And, if you want to go the sentimental route, that Sam Walton, founder of Walmart, also grew up on a farm (well, partially).
There's also the other problem that many towns don't have small local markets. They don't even have farmers' markets. The residents don't have gardens where they grow their own heirloom tomatoes. (Some of them may also have black thumbs.) They've got Walmart.
So, what do you think? Is "Buy Local" a compelling argument only up to the point where Walmart comes in? If you have no place like City Feed and Supply at which to buy local stuff, would it be the teensiest bit okay to buy produce raised on local farms from the evil giant Walmart?