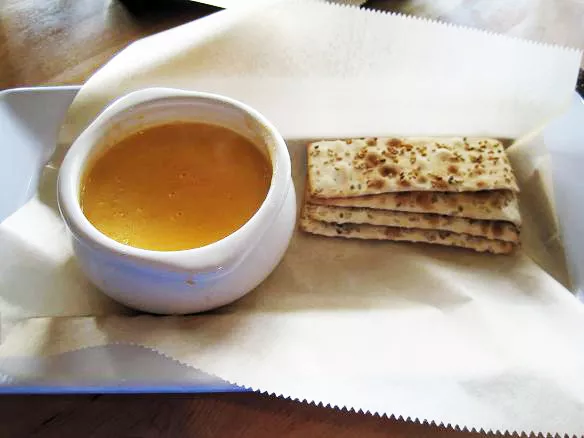 Ordering lobster bisque in this town almost always leads to a sad culinary version of Where's Waldo? There must be lobster in here somewhere, right? I mean, it's in the name.... And I'm not even talking about pieces of lobster meat -- even the flavor can be tough to pin down in all that cream. At Café Ventana, the balance between the cream's velvety body and the lobster's sweetness, lightly tinged by the sea, with perhaps a hint of of sherry, is perfect. And -- look! -- there are actual small flecks of lobster meat in every spoonful. It's so good that you'll want to double-check your receipt. Yep. Just $4.95. Where's Waldo? More like, Why Not Seconds?
Café Ventana
3919 West Pine Boulevard
314-531-7500
$4.95
I'm counting down -- in no particular order -- 100 of my favorite dishes in St. Louis. Some are well-known, others obscure. Some are expensive, others dirt cheap. All of them, I guarantee, are delicious. Please do not hesitate to share your own favorites via the comments thread.
Previously:
#87: Calamari fritti at Mangia Italiano
#88: Brisket sandwich at Winslow's Home
#89: Paletas at La Vallesana 2
#90: Spaghetti and meatballs at Sugo's Spaghetteria
#91: The Michael burger at Michael's Bar & Grill
#92: Fried egg and ham toastie at the Schlafly Tap Room
#93: Bavarian chips with Welsh rarebit at Dressel's
#94: Onion soup at Brasserie by Niche
#95: Baby-back ribs at 17th Street Bar & Grill
#96: Kingshighway burger at the Royale
#97: Gyro sandwich at South Grand Gyro Express
#98: Carne asada tacos at El Paisano (Watson Road)
#99: Pretzel bites at Joey B's on the Hill
#100: Hot and sour soup at Shu Feng Restaurant