Given Gut Check's never-ending quest for obsession with great wine values, we figured it'd be a good idea to check in from time to time with local merchants. They pick three wines they consider to be excellent values, and Gut Check buys and tries one of them. Price is important, but value is really what we're all after.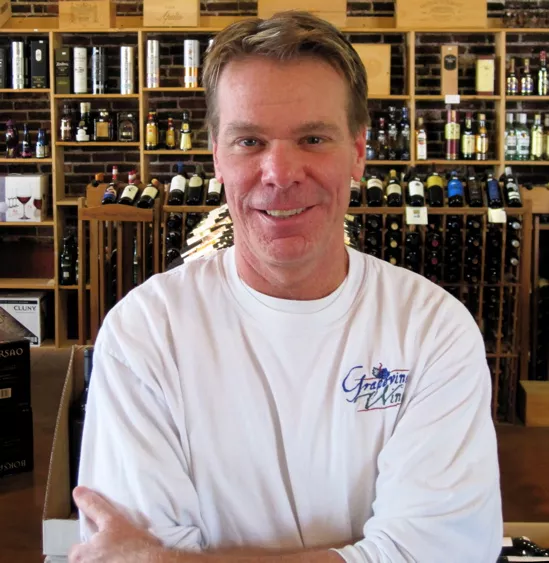 Dave Nelson
Bob Gray of Grapevine Wines in Kirkwood.
Next up is Bob Gray, co-owner of Grapevine Wines in Kirkwood (309 South Kirkwood Road, Kirkwood; 314-909-7044). Grapevine is home to an eclectic selection that covers all price points with thoughtful, interesting choices. We're particular fans of the Italian and U.S. sections of the store, and the attention paid to Missouri's own as well.
First up: Gray's Value Pick...
Value Pick: 2008 Bodegas Torres Manur Pindal Rueda ($8)
Warm spring days getting to you? Gray suggests this Spanish bargain, which he describes as "falling between a pinot gris and a sauvignon blanc." It's a blend of equal parts verdejo and viura. Verdejo is the pride and joy of the Rueda, and justifiably so, as it is a distinctive variety with a lovely herbaceous character to its fruit. Bob says this one is "clean and crisp" and perfect for sipping on the deck.
Next, Gray's suggestion for Something Special... Something Special 2006 Hahn SLH estate pinot noir, Santa Lucia Highlands ($25)
With the variety still reveling in the post-Sideways boom, bargains in pinot noir from the Central Coast are few and far between. "This is pinot with lots of guts -- it's ripe, lush and delicious" says Gray. It's also made from estate-grown fruit, which is rarely seen at this price point. (You should always check bottles to see whether the grapes are estate-grown; labels on U.S. wines clearly indicate it if they are.) It's raised in 50 percent new oak barrels, but there's enough fruit from the über-ripe 2006 vintage to handle it without it getting in the way.
Having popped the top on a bottle, we have to concur with Gray's assessment: Fans of big California pinot noirs who aren't averse to some oak influence will love this, and at $25 it's a screaming bargain: Clear ruby in color, with ripe fruit aromas -- almost jammy; cherries supported by a touch of spicy oak. It tastes quite rich, with the fruit dominating. There oak is more assertive in the mouth than on the nose, and it helps lengthen the finish. This one's more elegant than many Central Coast pinots.
Hahn will be at Grapevine Wines for a tasting on Friday, April 23 from 6 to 7:30 p.m. There'll probably be a small charge for the tasting (we'll update when that's announced), but it will still be a nice chance to sample Hahn's wines before you dig deep for a bottle.
Update: The tasting will be $7, but you will get a credit of $5 towards the purchase of any of the wines being tasted.
And finally, if you're up for a Splurge... Splurge 2006 Palazzo Napa Valley ($50)
If you're looking for a wine for a special occasion in the near future, Gray suggests this one. "It drinks great now but can for a decade in the cellar too," he says, noting the disappointment people sometimes experience with high-end wines they've opened too soon. This one is inspired by the owner's love of Right Bank Bordeaux, where merlot is king. The blend is 68 percent merlot, 22 percent cabernet franc and 10 percent cabernet sauvignon, which results in a wine Gray finds "rich but elegant at the same time."
Match it with a great steak off the grill, he says, and you'll be extremely happy.
Grapevine Wines 309 South Kirkwood Road, Kirkwood 314-909-7044