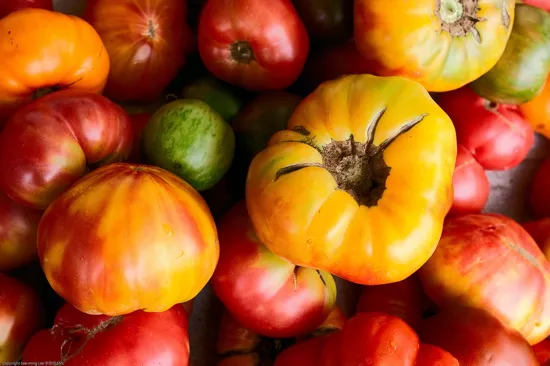 You say "tomato," we say, "heirloom tomatoes."
Is there a vegetable more beloved by gardeners than the tomato? Incredibly versatile, preservable, and downright perfect when picked from the vine at peak ripeness, tomatoes rightly find their way into even the smallest gardens. In honor of this garden favorite, Slow Food St. Louis and Farm to Family Naturally are sponsoring a tomato-growing contest. Dubbed "The Good, the Big, and the Ugly," the competition gives local back-yard farmers a chance to strut their tomato stuff in a variety of categories at an event scheduled for Saturday, July 31, at Sappington Farmers' Market.
"St. Louis needs a tomato contest to get more people involved in growing their own food. Tomatoes can be the first step in teaching people where their food comes from," says Justin Leszcz of Yellow Tree Farm, who suggested to Slow Foods the notion of a tomato contest. "It's easy to grow a tomato -- anyone can do it, and that's what we want to get people to see."
"The Good, the Big, and the Ugly" will feature tastings of heirloom tomato varieties grown by local farmers and gardeners, as well as cooking and preserving demonstrations, and educational activities for children. Growers may submit their tomatoes in best-tasting, best-looking, heaviest, ugliest, and Brix measurement categories.
Not a gardener? There'll be a bloody mary-making contest for professional and amateur mixologists.
"This type of contest is important to Slow Food, because ultimately we are interested in connecting people with their food," says Slow Food co-leader Kelly Childs. "This includes how their food was cultivated, what kind of seed it comes from, whether chemicals were used and where it originated geographically.
"If we can actually inspire people to grow some of their own food, then we are really accomplishing our mission," Childs continues. "We're also accomplishing our mission even if people just come out to taste something new or learn about seed saving or preserving their tomatoes for winter use."
Further details, as well as entry information, can be found on Slow Food St Louis' website as they become available.