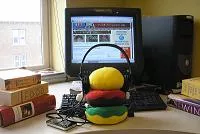 Gut Check dishes on our favorite St. Louis food blogs.
Andrew Mark Veety: Andrew steps aside for a guest post from another member of the Church of Burger's congregation.
A Veggie Venture: Alanna made Tofu-Salad Sandwiches.
Sugar Spice and More Things Nice: Rachel discussed diabetes and blame.
Cupcake Project: Stef made Carrot Cake Cupcakes.
Off the Menu: Evan previewed Ferguson's Hill Brewing Company.
Rhubarb and Honey: Kimberly made Sirloin Steak with Grainy Mustard Sauce and Parmesan Steak "Fries".
St. Louis Eats and Drinks: The Pollacks visited Gokul.
Highlander Blogg: Mike posted photos and video from the United States Barista Championship.
FamilyStyle Food: Karen made Sicilian Lifeguard Squid with Couscous.
STL Hops: Mike shared photos from the 2010 Craft Brewers Conference.
Sauce: Bryan reported on the Culinary Institute of St. Louis, scheduled to open this summer.
Feast: George reported Kaldi's purchase of Kayak's Coffee & Provisions.
Iron Stef: Stephanie made Chipotle Shrimp Tacos with Jicama-Mango Slaw.
Sounding My Barbaric Gulp: Kelly shared her wedding reception menu.