Cheers! Drinkers celebrated 77 years of OK'ed imbibing on Saturday in Maplewood.
Schlafly's Repeal of Prohibition Festival, held Saturday at
Schlafly Bottleworks
(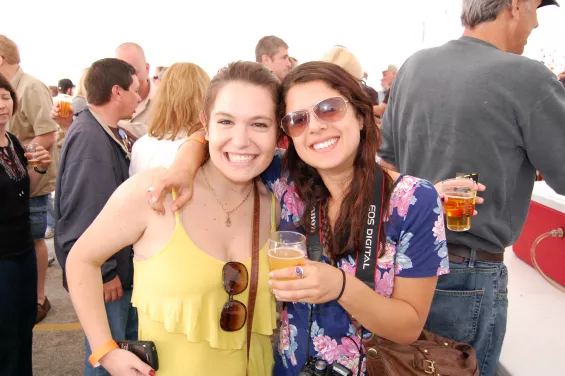 Jilian Rappaport (left) and Edina Appelbaum, both Washington University students, enjoying themselves at the Repeal of Prohibition Festival. Their favorite beer was "White Devil" by Kuhnhenn Brewing Company.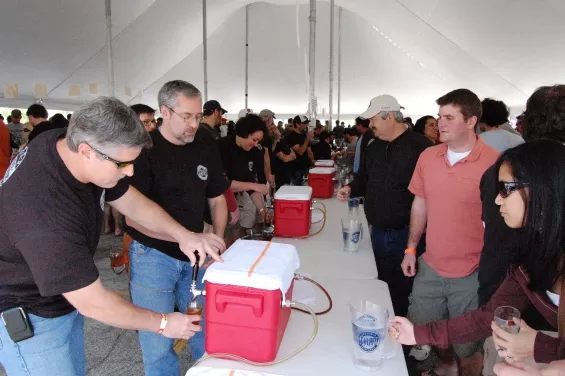 Volunteering is always a good thing. But these volunteers, who kept the beer flowing all day long, also had the benefit of being able to drink on the job.
Prohibition in the U.S. lasted between 1920 and 1933. Judging from the popularity of this event, it's not likely to make a comeback anytime soon.
Eric Kuhnhenn (right) of Kuhnhenn Brewing Company poses with Curt Guntzviller, a brewer from Short's Brewing Company. They were part of the three different Michigan brewing companies invited to the festival.
Kim Kowalski (center) is a brewer from Mt. Pleasant Brewing Company, one of three Michigan brewers invited to the festival. Kowalski said Mt. Pleasant's Cow Catcher Red Ale and Coal Stokers Blackberry Ale were the most popular.
These St. Louis ladies said their favorite beer at the festival was the Cow Catcher Red Ale by Mt. Pleasant Brewing Company.
One of the highlights of the festival was Schlafly's dry-hopped marzen, a traditional beer server for Oktoberfest. This is part of a collaboration between Schlafly and Calwer-Eck-Brau, a German brewing company from Stuttgart. The project is part of the 50th anniversary celebration of St. Louis and Stuffgart as sister cities.
Running the dry-hopped marzen through a cooler filled with ice to chill it and create restriction to prevent foaming.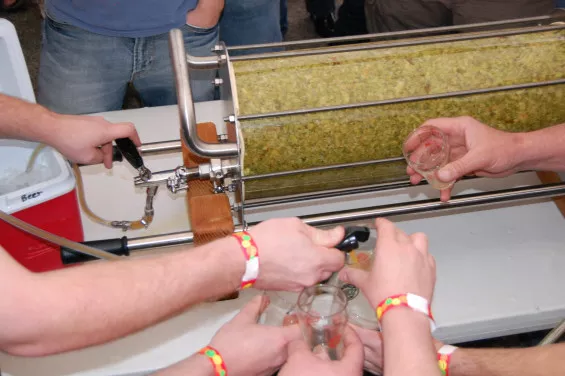 As soon as the dry-hopped marzen was hooked up and ready to go, a sea of hands were reaching in to get a taste of this special brew.
The marzen drew immediate attention from the crowd. The line of people wanting a taste soon snaked around the tent.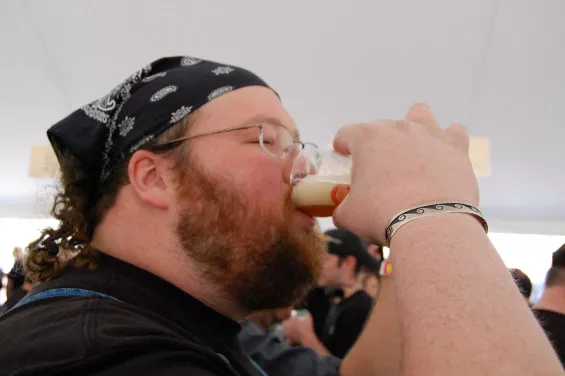 Todd Rock gets a taste of the dry-hopped marzen. He is an intern at Schlafly and a student at the UC Davis Master Brewers program.
For $25, beer lovers received this festival glass and a tasting guide. The glass may have been small, but it came with unlimited refills.
Keith Angle, a volunteer at the festival, shows off his special glass holder. He got the holster at a eating contest. It originally contained a bottle of Pepto-Bismol.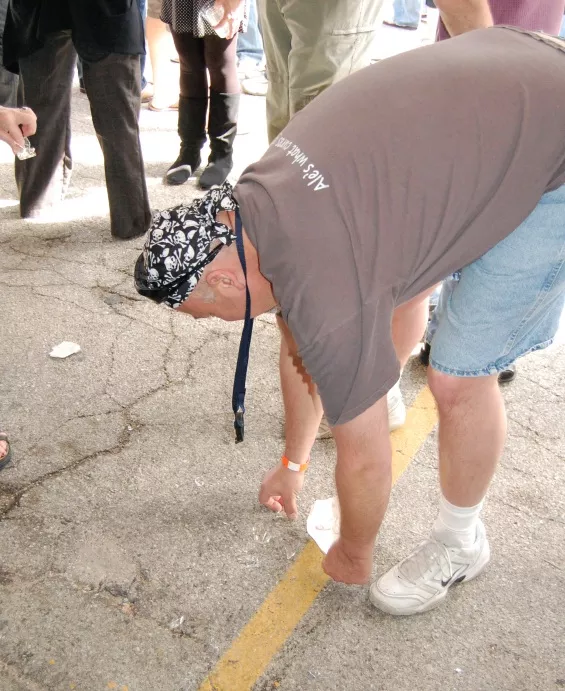 Greg Bridwell, a home brewer from Edwardsville, Illinois, commits the ultimate party foul. This is the second time he has dropped and broken his festival glass.
These beer enthusiasts said their favorite brew was White Devil by Kuhnhenn Brewing Company.
Where there is beer there must be barbecue. Hamburgers, cheeseburgers, brats and hot dogs were on the menu at the festival.
With so much beer to try, the dance floor didn't get much attention. But this couple found time to bust out the dance moves with music provided by
Swing DeVille
.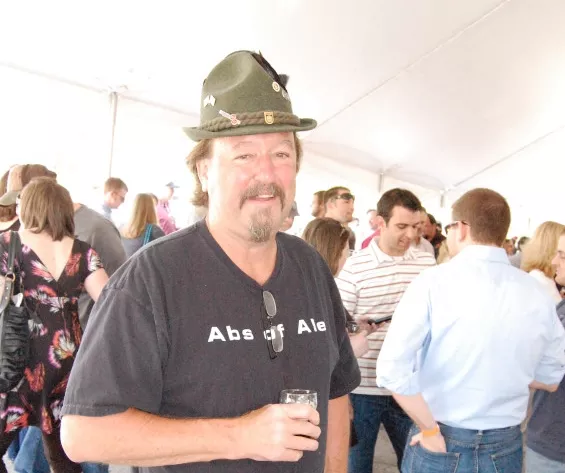 Carl Thenhaus, of South City, said the Black Ale was his favorite. He later changed his mind and said the Belgian IPA was his favorite. The only problem is, neither of those were on the menu. Either he was reading the names wrong or he had too much Ale... or IPA.
James Durer (left) and Branden Miles, both from St. Louis. James' favorite was Nicie Spicie by Short's Brewing Company, while Branden preferred Schlafly's Summer Lager.
Jake Acton fills a glass of Huma-Luma-Licious, a pale ale by Short's Brewing Company. He said Huma-Luma-Licious was the best beer at the festival, because it was poured by the best server.