The St. Louis craft-beer community turned out in force last night at the Schlafly Tap Room for a meet and drink with Greg Koch, CEO and Cofounder of Stone Brewing Co.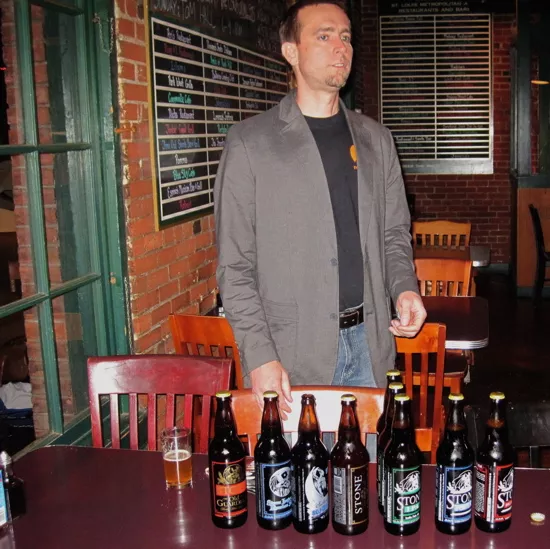 Dave Nelson
Greg Koch preaches to the craft-beer converted at the Schlafly Tap Room.
The humorous high point of the evening occurred early, when Koch pulled out his bullhorn and began some high-volume craft-beer prosthelytizing, prompting the ire of longtime Schlafly bartender Kevin Nash, who hollered, "Hey! That's enough! You're not the only one here, ya know!"
Koch was kind enough to bring a case of Stone brews to share with the crowd of more than 50 beer lovers who turned up. Stlhops.com founder Mike Sweeney dipped into his cellar to add some aged examples of Stone beers to the tasting. Based on how quickly they were drained, Stone definitely has a potential market in St. Louis. Koch also brought plenty of Stone swag.
The brewmaster spent about two hours talking beer, signing autographs and posing for photos with his fans. While no definitive word was spoken about distributing Stone beers in Missouri, last night's gathering certainly can't have hurt our chances.