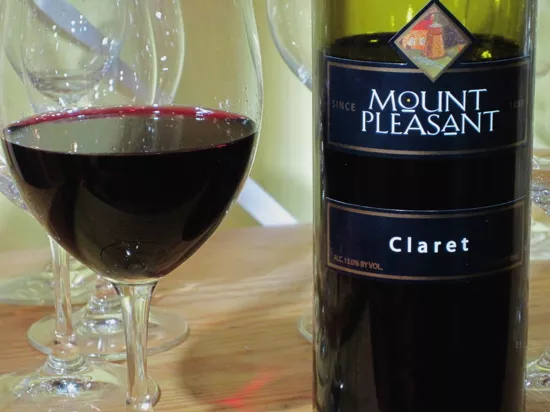 Dave Nelson
Hmmmm, no vintage? Wonder what that might mean...
Most people who are concerned with what they eat and drink are on board with buying from quality local producers. In Missouri this concept frequently comes to a screeching halt when it comes to wine. A picnic at a winery on a warm spring day? Sure. But a Missouri wine with a fine meal? Not so much.
Missouri certainly has a storied history as a wine-producing region, but it hardly sets most geeks' hearts aflutter. Factoids about Missouri being the second-largest wine producer before Prohibition (note that little is ever mentioned about the quality of the wine 90-plus years ago), or that Augusta was the first AVA recognized by the federal government (a quirk of timely bureaucratic filing and processing) nicely fill space on marketing brochures, but it's what is in the glass now that matters.
Too often, unfortunately, many Missouri wines suffer from a variety of sins -- too dilute, overly oaky or just plain weird. But there are good ones out there, wines that truly deserve a place at your table. This uncertainty, of course, make Missouri wines excellent candidates for "Thrill or Swill."
Succumbing once again to our weakness for a bargain, Gut Check bit on a recent offering from a Missouri winery at an attractive price from our local Schnucks. It wasn't what we expected, but not for the reason you might expect....
NV Mount Pleasant Claret ($9 on sale at Schnucks in Richmond Heights)
Full, rich purple in the glass. The aroma is overwhelmingly oaky, the wood's spicy creaminess obliterating whatever else might lie within. A mouthful yields a hint of jammy fruit, but it's crushed by the aforementioned lumber. Too bad, because there's decent acidity and even a long finish. It's a bit more balanced on day two; still, if you want to tackle this wine, bring your chain saw.
Verdict: Swill
There's no vintage date on this bottle. Closer inspection of the label reveals that this is not a Missouri wine at all, but rather an "American Claret" that is "vinted, cellared and bottled by Mount Pleasant Winery."
Translation: Mount Pleasant made the wine with grapes grown somewhere in the United States (including Washington, D.C., and/or Puerto Rico!).
Why Mount Pleasant would do this is a mystery, as is the type (or types) of grapes that were used. That "American" also means Mount Pleasant is prohibited from listing the vintage(s) on the label.
On the bright site, Missouri's "Thrill or Swill" record remains unblemished.
"Thrill or Swill?" aims to expand wine drinkers' horizons -- including Gut Check's. If you have been curious about a grape or wine and want Gut Check to try it, let us know via the comments thread. If we can find it (and if we can afford it), we'll buy us a bottle, yank the cork and report back.