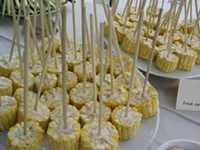 Roaming Revelry
"Lolli-cobs" with chili-honey butter, served at a supper club last year.
Monday night is generally to restaurant people what Sunday night is to 9-to-5ers: a time to relax and recharge for the week ahead.
So why would two young St. Louis cooks choose Monday -- their night off -- to hold a supper club? To bring their kitchen-slave friends out to share a table with regular Joes. But of course!
Lauren Pusczek
, a cook at the Shaved Duck, and
Amanda Jerauld
, of Eclipse, launched the Monday-night
"Roaming Revelry"
seasonal supper club on the rooftop of the
Paul Brown building
late last summer. After a winter's hiatus, the new season starts up again on April 19.
The concept is simple -- and affordable.
Each month's menu is based around a new theme. Last fall saw the "Southern Fried Social," "Apple Attack" and "Moroccan Mayhem."
The goal is to source most of the fare from local purveyors, including Pusczek's grower-dad,
Greg Pusczek
, who farms in Millstadt, Illinois.
Dinner is served family-style on the rooftop of the Brown building. That's an aperitif, three to five appetizers, two to three mains, three to five sides and two desserts. You can BYOB and get in for $30 a person ($25 for regulars). Reservations required, via
Facebook
.
"Amanda and I both found that working in restaurants is great, but you don't get as much time to really experiment with new things," says Lauren Pusczek. "You have pretty much a set menu and you don't ever really get a chance to do an entire menu with products that are all local and perfectly in season. I think St. Louis is this up-and-coming foodie town, and people really do care about supporting local growers and what-not, not just Restaurant Depot."
Pusczek says they're bringing aboard another cook this year,
Josh Charles
, of Eclipse, but that the "roaming" element of the supper club is still being ironed out. For now, most of the dinners are planned for the Paul Brown rooftop.
The first Roaming Revelry of 2010 takes place on April 19 with "Spring Has Sprung" as the theme.