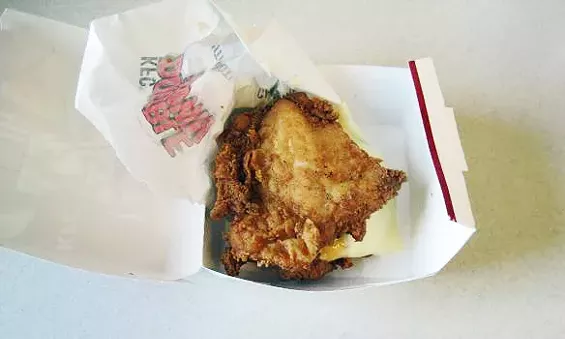 Ian Froeb
There is bacon in there. Promise.
"Would you like to try the Double Down sandwich?" the cashier at KFC asked when Gut Check stopped by this morning, her tone so rote that you might believe that the highly touted sandwich had been available for months rather than mere hours.

"Yes, actually. I'll take two."

The Double Down sandwich uses two Original Recipe fried chicken breast fillets in place of bread, with bacon, Monterey jack cheese and some of the very unfortunately named Colonel's Sauce inbetween.

Colonel's Sauce notwithstanding, this has to be the greatest thing ever? At the very least, it will occupy a place of pride among the bacon explosion, the bacon bra and other over-the-top bacon creations, right?


No. And I say that even after putting aside my restaurant critic's hat and judging this simply as someone known to eat his fair share of fried chicken and bacon. (Though, alas, rarely together.)

The sandwich is about the size of your average fast-food burger. The bacon is hidden beneath the Monterey jack cheese, which in my case had only barely melted, giving it an odd, squishy texture.

Frankly, I didn't much notice the bacon when I took a bite. The sandwich tastes like KFC fried chicken, with the slightest tang from the cheese and, God help us, the Colonel's sauce.

So the Double Down is -- shocking! -- yet another triumph of marketing over substance. Yes, America loves bacon -- now more than ever, it seems -- and yes, we love our fast food oversized and outrageous. But the Double Down doesn't even come close to being either. Really, aside from the entire surface of the chicken being breaded and deep-fried, it isn't that much different from a run-of-the-mill stuffed chicken breast.

The timid can order the Double Down with grilled rather than fried chicken, but fair warning: Given how wimpy the fried version is, your friends will probably laugh at you.