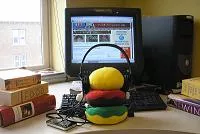 Gut Check dishes on our favorite St. Louis food blogs.
Beer Wine and Whiskey: Dave is in search of "natural" wine in metro St. Louis.
One Hot Stove: Nupur made saffron cardamom lemonade.
St. Louis Eats and Drinks: The Pollacks brunched at Yia Yia's Euro Cafe.
Rhubarb and Honey: Kimberly made grassfed beef short ribs.
Cupcake Project: Stef made salty and sweet compost cupcakes and is holding a onesie giveaway.
Iron Stef: Stephanie made sesame edamame salad with almonds.
Bruno's Dream: Bruno kept a close watch on his asparagus crop.
Feast: George has details on some local competition for Groupon.
Off the Menu: Evan reported that Gelateria Tavolini will start serving hot breakfast and lunch items and the Bridge will start running burger and beer specials on Mondays.
Sauce: Bryan shared some foodie-friendly booths that will be at the upcoming Eco Expo.
STL Bites: Bill posted a Farmhaus dinner menu.
STL Hops: Mike shared that Buffalo Brewing Company is debuting a new Open Range series.