The opening day of the
Maplewood Farmers' Market
was almost rained out. But shortly before the market was to open at 4 p.m., the clouds cleared up just as quickly as they had gathered, allowing farmers from around the region to show off their products.
This award-winning goat cheese, made by
Baetje Farms
, was one of the more popular items at the market. Baetje Farms also sells at most of the other area farmers' markets.
The Maplewood Farmers' Market is open at 4 p.m. every Wednesday on the parking lot of
Schlafly Bottleworks
(7260 Southwest Avenue). The parking lot was packed with cars on the opening day.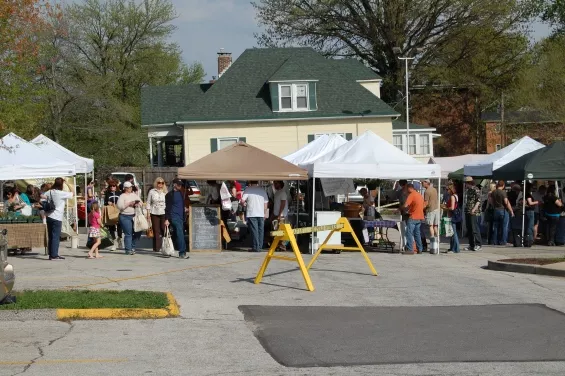 Though the weather was nice, the rain storm only hours before scared off a few of the vendors. Hally Bini, who works for Schlafly and manages the market, tells Gut Check that only eighteenvendors showed up, but that number would likely go up to around 30 in May, once farmers start harvesting more vegetables.
Ellen Knoernschild, owner of
Centennial Farms
, helping a customer. Centennial Farms mostly grows fruits, such as apples, peaches and blackberries. In the fall they also host pick-your-own-apple events and see a lot of schoolchildren come through on tours.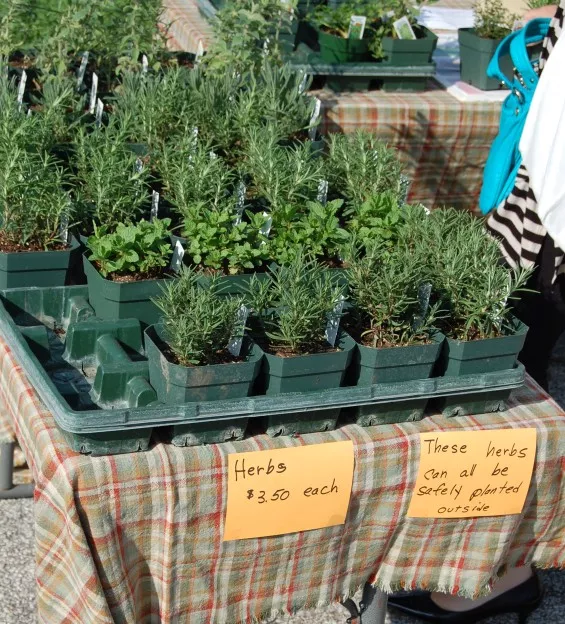 Early in spring a lot of vendors at the Maplewood Farmers' market were sellings plants and herbs, allowing urban farmers to do try their hands at growing food as well.
Black Bear Bakery
(2639 Cherokee Street) was one of the vendors at the Maplewood Farmers' market. The bakery mostly specializes in breads and sweets, and also sells at Soulard's and Clayton's farmers' markets.
A farmers' market doesn't have to be all about fruits and veggies. The South Grand restaurant
Mangia Italiano
(3145 South Grand Boulevard) was on hand selling the same pasta used in the restaurant's dishes.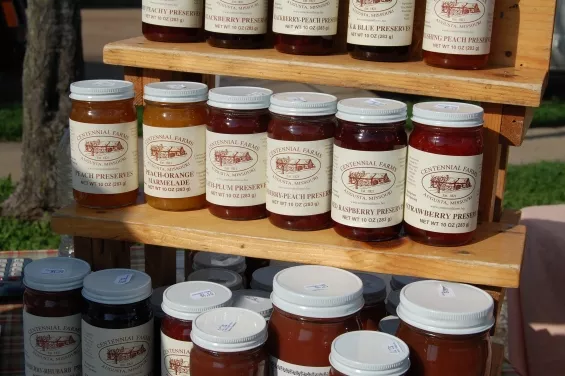 Organic peach and apple preserves, from Centennial Farms in Augusta.
The Maplewood Farmers' Market is supported by Schlafly. Farmers get a space to sell their products and 50 percent off on beer and food. In return, Schlafly Bottleworks gets a parking lot full of people browsing the stands and enjoying some cold beer on the adjacent patio.
Jeff and Greg Parkinson, brothers and owners of
Moder Valley Nursery
from House Springs. In their second year at Maplewood's Farmers' Market, they were selling organically grown potted herbs.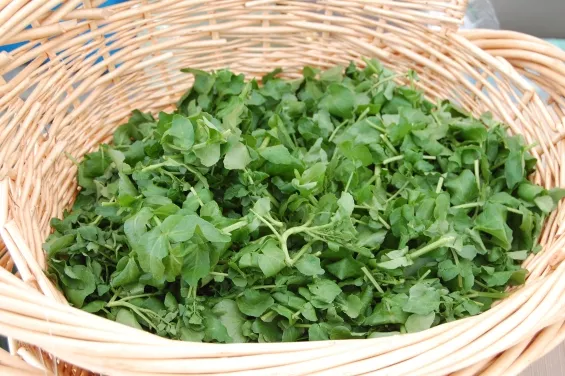 A basket full of Watercress, one of Moder Valley Nursery's most popular selling herbs.
Ivan Stoilov poses with a box of his strawberries. They were so popular that he was out of strawberries within the first hour of the farmers' market opening.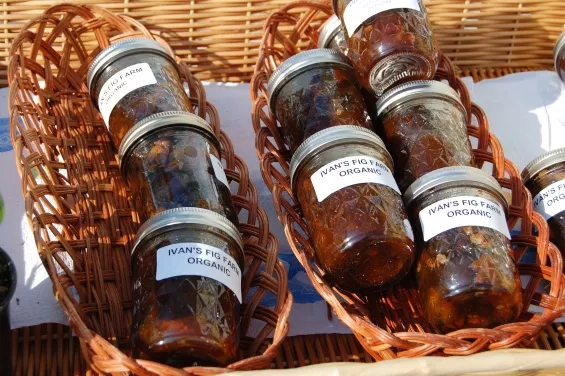 Ivan Stoilov specializes in growing figs. His fig farm in Dittmer uses greenhouses he built himself, allowing the farmer to grow figs during the winter and bring them to market earlier. During the winter his most popular product is the fig and peach jam.
Beekeeper Esther Jensen sells homemade honey at the Maplewood Farmers' Market. She can also be found Saturday mornings selling at St. Charles' farmers' market.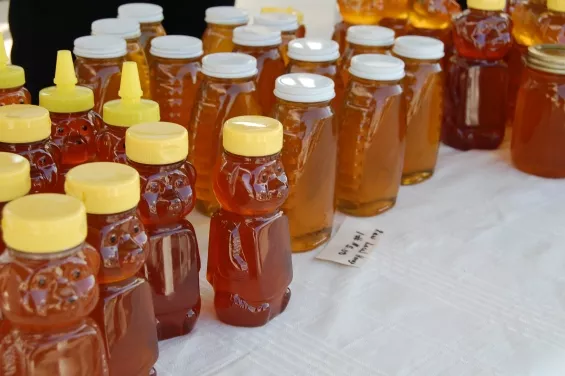 Esther Jensen's honey is homemade and bottled in her basement.
Steve Baetje, posing with some of his award-winning cheeses. This family operation sells to stores and restaurants, as well as most of the area's farmers' markets. Baetje will be selling at the downtown farmers' market once it opens. The most popular items at the Maplewood Farmers' Market were the Garlic and Chive goat cheese and the Pepper goat cheese.
The Maplewood Farmers' Market is located next to the Schlafly Bottleworks patio, bringing fresh food and fresh beer together in one location. Who can argue with that?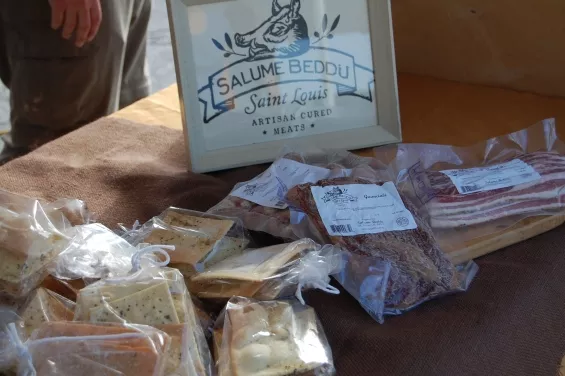 Salume Beddu
specializes in traditional Italian meats. Besides selling to restaurants and at farmers' markets, Salume Beddu is also working on opening a small retail store at 3467 Hampton Avenue.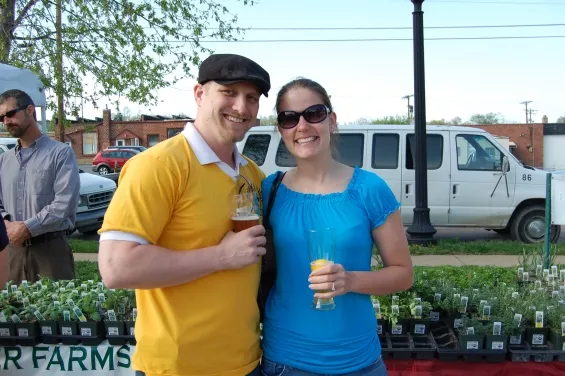 Seth Gengler and Jessica Oldani, in town taking a break from medical school, say they are enjoying all of the fresh food at the farmer's market. The cold beer also helps, the couple says.