This is part one of Robin Wheeler's Chef's Choice interview with Marc Baltes of Pi Pizzerias. Read part two here, and part three here.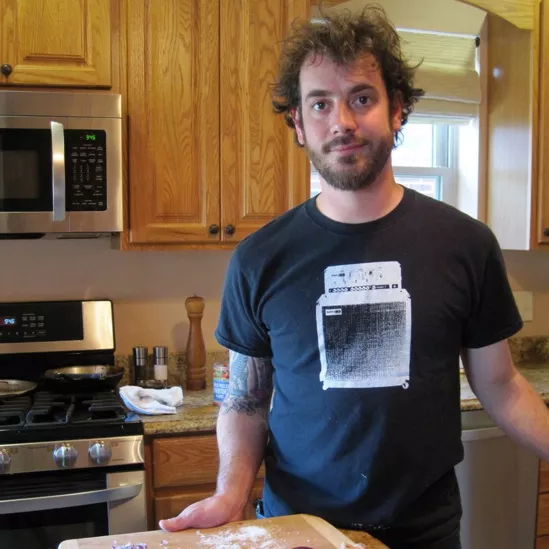 "I was the world's pickiest eater as a child," says Marc Baltes, a Culinary Institute of America grad who now works as executive chef for Pi Pizzerias.
"I flat-out refused to eat a bean. My parents insist that I sat at the dining-room table with a single bean tucked under my tongue for the entirety of dinner because I couldn't bring myself to bite into the bean and get the mushy bean texture. Which is funny because now beans are one of my favorite things to eat."
While Baltes can't pinpoint when he broke away from his selective eating patterns, he knows why he finally did. "I've always been really curious. I guess I got determined to figure out what things were and I developed this awful habit. All the guys in my kitchens make fun of me because I'll walk by and try tiny bits of everything. Anything and everything. Stuff you're not supposed to eat raw. Just to see."
That sense of curiosity led to his culinary education and time working on the San Francisco dining scene before returning home to St. Louis.
He makes pasta in the recently renovated kitchen at his childhood home with Creedence Clearwater Revival playing in the background, followed by Ryan Adams. Baltes' father works on the deck just outside the kitchen door. "I don't have a lot of work space in my apartment. I've got this jacky little wobbly baker's rack with a cutting board on it."
Being an executive chef has meant a change in his cooking. "I spend so little time cooking now," he says. "I don't think I've actually cooked in two weeks."
Is he OK with that? "No, not really. It's what it is. It's a young man's game." He's almost 35. "A lifetime of doing it is hard on the body. Chefs aren't known for taking good care of themselves."
That lifestyle's part of what led him to Pi. "I had been cooking at Niche for almost a year and a half. I left so I could take a vacation. In this business the only way to take a vacation is to change jobs. I came back into town, gave my brother [Pat Baltes, sous chef at Cardwell's at the Plaza] a hand and then got the call from Chris [Sommers, owner of Pi]."
The call came in time for Baltes to open the Pi locations in the Central West End and Kirkwood, a challenge he embraced. "Openings are a lot of fun. They're total pandemonium -- absolutely insane. I still don't remember what happened. We did Kirkwood and the West End within six weeks. I have no idea how we did it. There were a couple of 90-, 95-hour work weeks.
"It's a totally different kind of challenge. Cooking on the line is cool and great. It's a lot of fun and I do miss that. But I like the problem-solving in this. That's why I wanted to do the openings: because they're crazy and it's all problem-solving."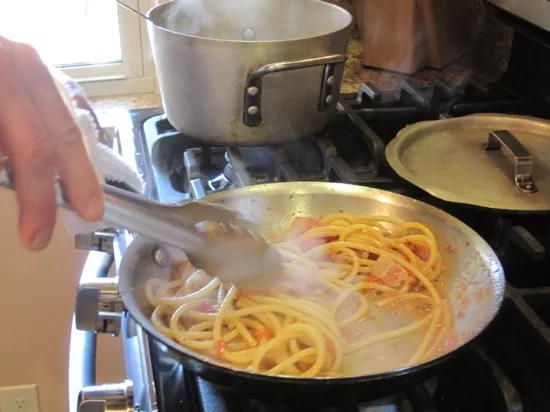 The move from fine dining to pizza, and from working in the kitchen to overseeing three kitchens (soon to be four when Pi on the Road takes off) hasn't hampered his creativity. "The coolest thing about Pi and the different locations is that each location is tailored to each neighborhood it's in. We actually hit the mark so well with it."
As spring begins he's looking to incorporate more local produce into special pies, letting availability dictate the specials. "We're going to start doing a local pie of the week. It'll probably start off with something like spring onions, asparagus. How much do you have? Buy it all and do things like spring onion, sausage and ricotta pizza. Run that all week long, and then next week we'll get peppers and do peppers and pepperoni."
In the meantime he'll be putting his problem-solving skills toward how to make deep-dish pizza in a food truck, satiating his curiosity by being a part of the next, mobile level of St. Louis dining.
Did your family cook when you were a child? If so, what meals stand out? My mother's pork loin pot roast-type thing. She would roast a big piece of pork loin with thick slices of potato that would absorb all of the meat flavor, served with applesauce. Or my dad would grill a sirloin steak and make homemade French fries. In the summer, we would have corn on the cob with it.
How old were you when you started cooking? Seventeen, but I started busing tables when I was fourteen.
What was your first kitchen job? Chris' Pancake and Dining.
Did you attend culinary school or college? I went to CIA in Hyde Park. School was good, but I learned more in my six-month internship than in the eighteen months of classes.
What do you eat? I'm really picky. I'll eat almost anything, but I'm really picky about how it's made. That makes deciding what to eat for dinner a long process sometimes. I'm sure it drives my wife crazy, but she pretends it doesn't.
We'd be most surprised that you eat... ...a banana-blueberry yogurt smoothie every day. Out of a Mason jar.
What do you cook at home? Pasta, if I have the evening off. I love the process of making fresh pasta. The smell of the flour reminds me of freshly baked bread. Not that it smells like bread, but makes me smile the same. Either that or big pots of Moroccan-style chicken stew with chickpeas, so that I have something to eat when I get home from work and don't feel like cooking.
3 favorite restaurants in St. Louis, besides yours? My three favorite things to eat in STL would have to be pho at Mai Lee, fried chicken at Sweetie Pie's and the burger at Newstead Pub.
Local chef who most impresses you? Kevin Nashan at Sidney Street. He is a great cook, a really great guy.
Favorite restaurants elsewhere? Quince, Pizzaiolo, Slanted Door, all in San Francisco.
Your favorite food city? San Francisco.
{to be continued...}