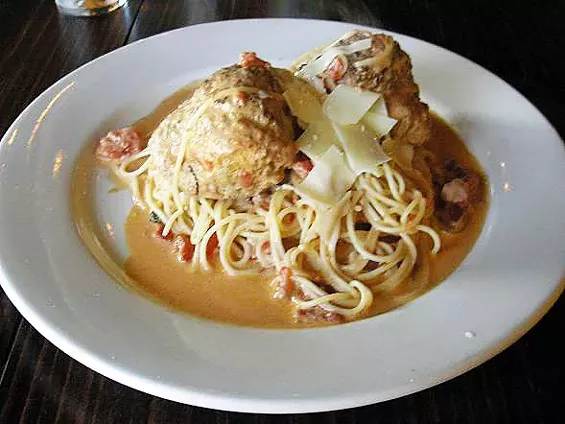 Ian Froeb
On top of spaghetti at Sugo's
Exactly two meatballs, to be precise, each about the size of a tennis ball. The interior is tender not only at the center but also, remarkably, not too far underneath the browned surface. The seasoning is mild, unobtrusive. Besides, there is so much meat here that any attempt to jazz it up would require half the spice rack.
Better to pair the meat with the rich, creamy tomato sauce pooled around it and clinging to the slightly-past-al-dente noodles. (I said these dishes were favorites, not perfect.) With no more adornment than a few curls of shaved Parmigiano-Reggiano, this is a simple, soul-satisfying dish.
Sugo's Spaghetteria
10419 Clayton Road, Frontenac
314-569-0400
$10
I'm counting down -- in no particular order -- 100 of my favorite dishes in St. Louis. Some are well-known, others obscure. Some are expensive, others dirt cheap. All of them, I guarantee, are delicious. Please do not hesitate to share your own favorites via the comments thread.
Previously:
#91: The Michael burger at Michael's Bar & Grill
#92: Fried egg and ham toastie at the Schlafly Tap Room
#93: Bavarian chips with Welsh rarebit at Dressel's
#94: Onion soup at Brasserie by Niche
#95: Baby-back ribs at 17th Street Bar & Grill
#96: Kingshighway burger at the Royale
#97: Gyro sandwich at South Grand Gyro Express
#98: Carne asada tacos at El Paisano (Watson Road)
#99: Pretzel bites at Joey B's on the Hill
#100: Hot and sour soup at Shu Feng Restaurant