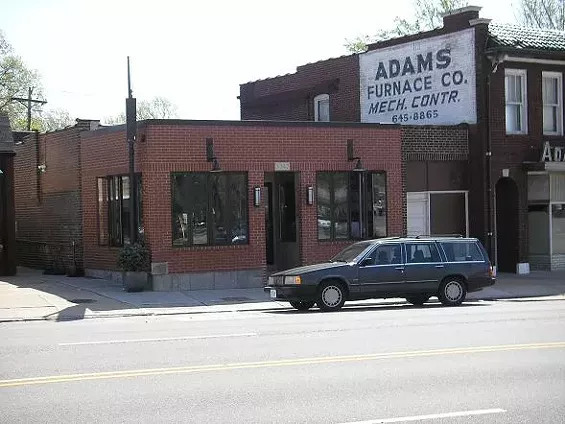 Ian Froeb
The new façade of Stellina Pasta Café
Stellina Pasta Café
(3342 Watson Road; 314-256-1600) reopened this morning after a two-week break to complete a renovation project that has nearly doubled the restaurant's seating capacity.
"We're about 90% done with everything," says head chef and owner
Jamey Tochtrop
. "We took away most of our counters so now we have table service for lunch and dinner. We added about 30 seats. We were at 35 [seats] before."
Essentially, the restaurant added the extra seating by enclosing its patio -- though Tochtrop notes that the new layout maintains that open feel of a café with several new windows. Other design elements include exposed brick, hardwood floors and banquette seating.
Another addition is a small, full-service bar. "People will be able to eat at the bar," Tochtrop says, adding, "We've upgraded the wine list."
The bar isn't quite ready, but Tochtrop believes that it should be finished by this weekend. This weekend should also see the debut of an expanded dinner menu, with two or three mid-priced non-pasta entrées instead of only one.
The rest of the menu will be familiar to Stellina fans, though Tochtrop teases Gut Check with the mention of two new permanent additions to
its RFT-approved sandwich menu
.
Besides the bar, the restaurant still needs a few finishing touches, including the installation of several new pieces of art. "In the next month and a half, we should have it done," says Tochtrop.
Stellina's hours remain unchanged: 11 a.m.-9 p.m. Tuesday through Thursday and 11 a.m.-10 p.m. Friday and Saturday.