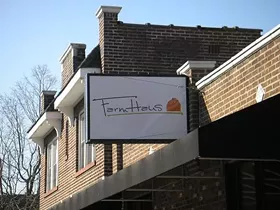 Ian Froeb
Farmhaus opened in Lindenwood Park this month.
March was a month for much-anticipated openings -- on both ends of the spectrum:
Dunkin' Donuts
returned to St. Louis, and
Kevin Willmann
, formerly of Edwardsville's
Erato on Main
, debuted
Farmhaus
.
As for closings, it was, thankfully, a quiet month. However, one of the few closings was a significant one:
Moxy
in the Central West End.
Eric Brenner
opened his restaurant in 2003, and while I never reviewed it for the
RFT
, I dined there many times -- almost always on my own dime, which is as high a compliment as I can pay a place.
The list of March openings and closings is after the jump.
Openings
Al-Waha Restaurant & Hookah Lounge
, 3191 South Grand Boulevard
Dunkin' Donuts
, 1208 South Kirkwood Road
Farmhaus
, 3257 Ivanhoe Avenue
Lampert's Plush Pig Barbeque
, 2811 South McKnight Road, Rock Hill [Relocation]
Mama Josephine's
, 4000 Shaw Boulevard
Shiver Vodka Bar & Champagne Lounge
, 1128 Washington Avenue
Social House
, 1551 South 7th Street
Closings
Moxy
, 4584 Laclede Avenue
Sameem Afghan Restaurant
, 3191 South Grand Boulevard
Seasons St. Louis
, Olive Boulevard and Woods Mill Road, Chesterfield
As always, please leave any openings and closings we might have missed in the comments section.