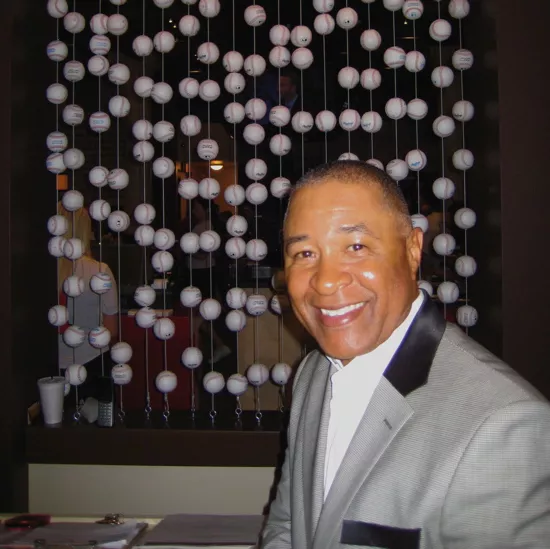 Ozzie Smith was distracted by golf, not baseball. "I don't play this," said the legendary Cardinal, pointing to a Golden Tee video game at Ozzie's Restaurant, which has moved from Westport to 1511 Washington Avenue downtown. "I play for real."
At Saturday night's sneak peek of the new Ozzie's, fans watched basketball, hockey and soccer all at the same time. Owner Roberto Gallardo has installed screens big and small on the walls and suspended from the ceiling. Several tables on the restaurant's two levels sport their own private sets. Downstairs four monitors are embedded into the corners of a Cardinal-red center bar. Diehards don't even have to look up from their plates!
"I think we have enough TVs now," Smith said.
April Seager
Ozzie signs a jersey for a guest at his soon-to-open Washington Avenue eatery.
The kitchen, headed by executive chef (and St. Louis rookie) Sean Landrum, focuses on crowd-pleasers like burgers, tacos and ribs. Patrons of the original Ozzie's will spot some newcomers, such as a walleye sandwich, hand-tossed pizzas and sirloin Marsala.
Smith -- whose famous backflip is depicted in four floor-to-ceiling photos -- dined with a group that included his son, former American Idol contestant Nikko Smith. In between collecting fans' kisses on the cheek (Nikko) and giving out autographs to admirers (Ozzie), the Smiths made a meal of appetizers: wings, potato skins, tortilla soup, spinach artichoke dip and calamari (Ozzie's fave).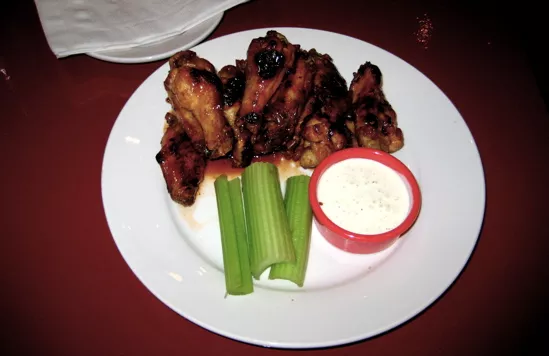 April Seager
Hankerin' for some of Ozzie's wings? You'll have to wait till next week.
Ozzie's grand opening was scheduled for tonight, April 5, but has been pushed back a week to next Monday, April 12, by which time work on the restaurant's upper level should be complete and a liquor license in hand. If you're keeping score, the rescheduled opening coincides with the Cards' home opener.
In the meantime Smith will be hanging out at the Masters this week in Augusta, Georgia.
Ozzie's Restaurant & Sports Bar 1511 Washington Avenue 314-241-0100