What's better than free candy? Nothing.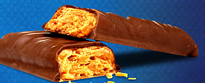 Free candy. You'll have to pay for the floss and toothpicks.
With that in mind, candy-maker Nestle has devised this marketing strategy in an effort to drum up sales of the Butterfinger bar: "Butterfinger Insurance." It launched yesterday and the company promises to give away 100,000 free candy bars.
First the company took out a "$1 million insurance policy for Butterfinger® through Lloyd's of London, the world's leading specialist insurers."
"Nestlè takes very seriously a consumer's desire to always lay a finger on a Butterfinger," said Nestlè USA Confections & Snacks spokesperson Tricia Bowles. "We know how much you value your favorite candy bar, and now there's a million dollar policy to protect it."
Additionally, the company is giving away, er, allowing customers to file insurance claims under the new policy, which entitles them to a "coupon good for 1 BUTTERFINGER® 2.1-oz single bar."
So there you have it, take ten seconds to fill out the online form, share a story, contribute to some online marketing efforts, out pops a (virtual) candy bar.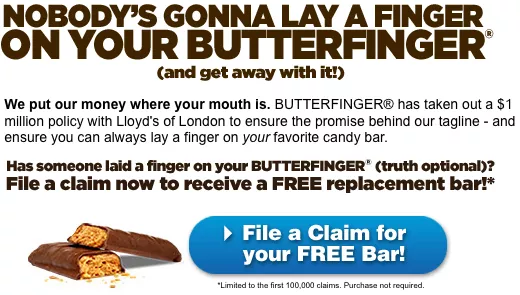 Butterfinger: playing to the market of Internet-addicted candy-lovers?
There's nothing stated about the the bar coming with a toothpick, however. You'll have to buy those on your own.
The company swears this was not an April Fool's prank, although it has a history of use the faux-holiday to generate publicity. In 2008 Nestle attempted to pull a fast one on America with this prank: