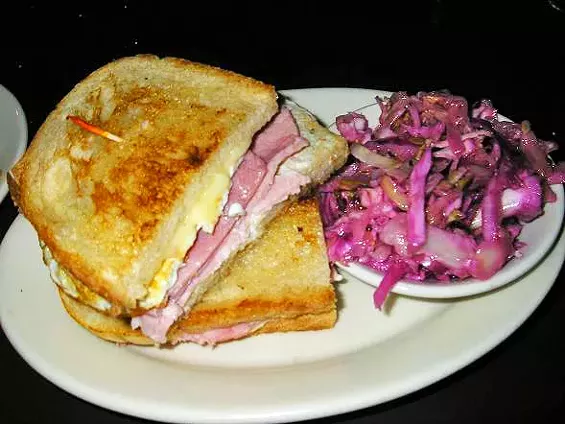 Ian Froeb
Schlafly Tap Room's Fried Egg and Ham Toastie, with side of vinegar slaw
The fried egg has undergone something of a revival in recent years. A few area restaurants will slap one on your burger. Dressel's offers a terrific fried egg and bacon sandwich that might have made this list were the restaurant not already represented by its iconic chips and rarebit. For my money, though, there are two truly great fried-egg sandwiches in St. Louis. One will grace this list sometime in the coming months. The other is the Tap Room's fried egg and ham toastie.
The sandwich is one of the new dishes introduced when Andy White took over the Tap Room kitchen a couple of years ago. Nothing complicated here, just a good egg perfectly fried -- solid white, oozing yolk -- with slices of savroy-sweet ham and mildly peppery arugula mayo on toasted wheat bread. Paired with one of Schlafly's beers (I prefer a hoppy brew to cut through the sandwich's eggy richness, though the accompanying vinegar slaw does a nice job of that, too), it makes for a comforting lunch or medium-light dinner. Or, if you love this sandwich as much as I do, both. On the same day.
Schlafly Tap Room
2100 Locust Street
314-241-2337
$8
I'm counting down -- in no particular order -- 100 of my favorite dishes in St. Louis. Some are well-known, others obscure. Some are expensive, others dirt cheap. All of them, I guarantee, are delicious. Please do not hesitate to share your own favorites via the comments thread.
Previously:
#93: Bavarian chips with Welsh rarebit at Dressel's
#94: Onion soup at Brasserie by Niche
#95: Baby-back ribs at 17th Street Bar & Grill
#96: Kingshighway burger at the Royale
#97: Gyro sandwich at South Grand Gyro Express
#98: Carne asada tacos at El Paisano (Watson Road)
#99: Pretzel bites at Joey B's on the Hill
#100: Hot and sour soup at Shu Feng Restaurant