In its continuing dive-bar special, Chow.com recently listed the fourteen elements you need to have a proper dive bar, along with nationwide examples of bars that exemplify these qualities.
Not surprisingly, St. Louis has its own shining examples of each quality.
1. Come Up With a Cool Name Keegan Hamilton covered this territory in January, with his Ten Best Bar Names in St. Louis. Example: Mary's Blue Ribbon Lounge.
2. Choose an Old Building There's no shortage of bars in old buildings in this town, but 1 Nite Stand is by far the best. Classic south-city style with a high ceiling and old wooden bar back. Last year the owner built a cozy patio surrounded by a privacy fence. Victorian elegance without the riff-raff.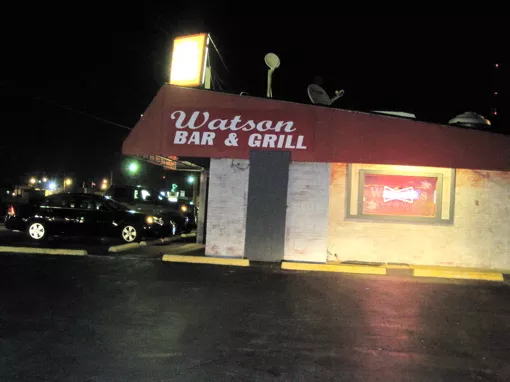 3. Piggyback on Another Draw Watson's Bar and Grill is located next door to Happy Joe's Pizza and Ice Cream. Had enough of the family pizza party frenzy? Sneak next door for a beer in peace.
4. Be Nook-Smart In other words, make sure your bar is near an outdoor space that isn't your responsibility. The Cat and Fiddle's large gravel parking lot next to a vacant lot on the edge of town's the perfect space for covert activity that as an owner, you don't want to know about.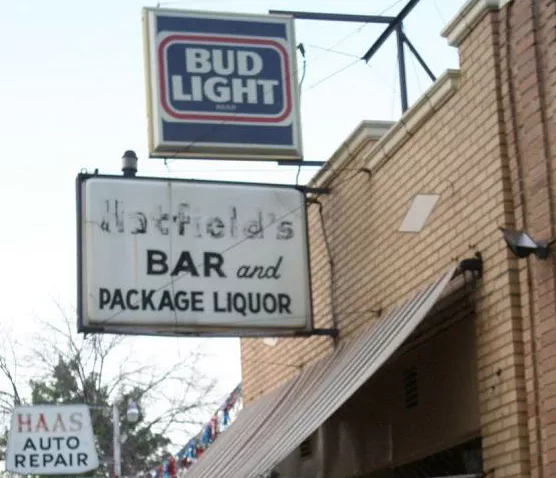 Robin Wheeler
Claudia's Pub. Don't be fooled by the sign.
5. Operate Under the Radar Claudia's Pub, which has been owned by a woman named Claudia since the late '80s, still bears the sign from the previous owner. She also doesn't take kindly to being mentioned in publications, as we learned via several angry phone calls to Gut Check Central. (Ruh-roh. Here we go again...)
6. Open Before 8 a.m. Because 24-hour bars aren't legal in the St. Louis metro area, it helps to open as early as possible. Not just for drinkers who like to get an early start, but for third shifters who would like happy hour when others are reaching for a different kind of morning brew. Foley's in Belleville boasted a 6 a.m. customer on St. Patrick's Day, and there's rarely a day when the lot isn't half-full at coffee time.
7. Don't Clean too Often Are you kidding? All St. Louis-area dive bars are so clean you could eat a pickled egg off the floor.
Robin Wheeler
The Sappington Lounge: It's dark in there!
8. Keep it Dark. Despite being located in a well-illuminated strip mall, Sappington Lounge's heavy blinds ensure that not a drop of bright autumn sunset leaks into the bar.
Robin Wheeler
Larry J's: Nascar hoods inside!
9. Adorn the Walls with Handwritten Signs, Paintings on Velvet, Yellowing Photo Collages from Fun Parties You Can Hardly Believe Happened in This Bar, and Dusty Taxidermy. Larry J's ability to communicate via handwritten notes surpasses all. The Nascar hoods hung from the ceiling add to the ambiance.
Note: Had the bar not closed, the One-Legged Dancing Jerkoff at Screamer's would have made them a shoo-in.
Robin Wheeler
When last we checked, Haney's was still serving its beer out of picnic coolers -- God love 'em!
10. Offer Only a Few Kinds of Cheap Beer It would be easier to list the places that offer more than a few kinds of beer. Unless Haney's Place in O'Fallon, Illinois, has finally replaced the broken taps and beer coolers from its Rick's Place days, this place wins. Serving beer from picnic coolers limits the options.
11. Discourage Cocktails Who wants a bunch of frou-frou drinkers in their dive? Take that shit someplace else. The Cat's Meow has the right idea: If you must have a cocktail, make it a bomb. If that doesn't cut it, order the house specialty: Cat Nip. This tiny shot of Sprite and a cherry soaked in vodka and Everclear will put you off hard liquor for the rest of your life.
12. Establish Quirky Traditions Open-mic nights are nothing new. But how many of them feature a father and underage son trudging through Nirvana, or a guy with a bongo doing a fifteen-minute solo on the Dead's "Bertha"? Add local karaoke legend Ali Babba as the MC and Cotter's Lounge has the quirkiest open-mic night in town.
13. Serve "Dinner." There's not a bar in town that doesn't have frozen pizza and a toaster oven. Plenty others have full menus. But if you're going to spend the night drinking $1 bottles of Stag, you'd be wise to do it at Time Out's, where you can follow your drunk with a slinger.
14. Use Brains, Not Muscle. There's a pleasant lack of thick-necked bouncer brutes in St. Louis, but no lack of savvy bartenders. The moonlighting teacher behind the bar at Hilltop Inn is used to disciplining inner-city high school students without violence. No doubt she can kick some rowdy ass without leaving a mark.