Sometimes, observes Nora Watson, an editor interviewed in Studs Terkel's Working, people's jobs are too small for their spirits. You want to dance your way down the assembly line, but if you do that you throw the whole system out of whack.
"You want it to be a million things that it's not and you want to give it a million parts of yourself that nobody else wants there," she says. "So you end up wrecking the curve or else settling down and conforming."
This Dinner and a Movie could be an instructive lesson on each way of dealing. First the movie, Modern Times, where Charlie Chaplin's Little Tramp can't resist the urge to dance through his job tightening bolts on the assembly line of a steel plant. Naturally, disaster ensues.
If you've never seen Modern Times, do yourself a favor and find it. (It's available on Netflix, though not streamable.) Chaplin wrote, directed and starred in it, and he also composed the musical score. He sings and dances and roller-skates. He convulsed the audience at the Tivoli last Tuesday just by raising an eyebrow.
Most people would probably say the definitive movie about work for our modern times is Office Space. But Modern Times, though more than 60 years older, is far more applicable. The main complaint of Office Space was that work is boring and degrading, full of stupid bosses who force workers to wear "flair." The problem is that, like the Little Tramp, we're living in a time when so many people are out of work that we can't just indulge our fantasies of blowing up a row of cubicles. We're grateful we have work (even if it is boring and degrading). Because what else is there? Unemployment?
Unlike the characters in Office Space, the Tramp tries to hold on to his job. He really does. But things keep happening. He gets beaten up by a feeding machine meant to increase worker efficiency. He suffers a nervous breakdown. The factory goes out of business. The workers go on strike. Friendly thieves claiming they just want a bite to eat show up on his first shift as a night watchman. It's no wonder the Tramp would rather spend his life in a warm, comfortable jail cell having companionable chats with the warden.
That all changes when he falls in love with the Gamin [sic], played by Paulette Goddard, "a girl of the waterfront who refuses to go hungry." (We first see her gleefully stealing bananas, grinning around a knife blade clenched between her teeth.) The Tramp and the Gamin mock bourgeois respectability -- the little house with the picket fence -- but they yearn for it all the same.
And in the end they don't get it. The oppressive System gets no great comeuppance, either. Instead it's just the Tramp telling the sobbing Gamin, "Buck up -- never say die. We'll get along!" She dries her tears and they walk off into the dawn. And as non-triumphant endings go, it's pretty damn satisfying. And way funnier than Office Space.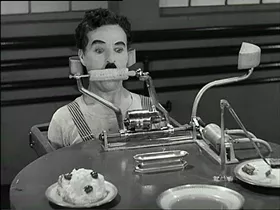 Chaplin versus the Bellows Feeding Machine.
How to find a dinner to accompany this? The ideal would be a Bellows Feeding Machine from the movie, "a practical device which automatically feeds your men while at work. Don't stop for lunch. Be ahead of your competitor...the feeding machine will eliminate the lunch hour, increase your production, and decrease your overhead."
They don't make Bellows Feeding Machines anymore, though. (It's quite probable they never did, but you know somebody besides Chaplin must have thought of it.)
Nor does St. Louis have an Automat, which was, 60 years ago, the last word in automated eating. The Automat was a chain of restaurants composed entirely of vending machines that dispensed actual hot food, not prepackaged chips and candy bars. You put in your coins, pushed open a little door and got your hamburger or slice of pie. It sounds like a lot of fun. There's a newfangled one in New York now, but it doesn't seem to be catching on the way the original did and is unlikely to expand westward anytime soon.
But there's always the Cheesecake Factory, a place that has obligingly shrunk its spirit in order to accomplish the work of feeding the masses. There are plenty of chain restaurants with elegant pretensions that serve mediocre food in a brutally efficient fashion -- say, Olive Garden or P.F. Chang's or even Houlihan's or Applebee's -- but hey, it's the Cheesecake Factory, which is nothing if not thematically appropriate. Also, they have a simulation of a visit there on their website. How emblematic of modern times is that?
Walking into the Cheesecake Factory, you are confronted by a twenty-page menu. It's an epic of sorts, but less War and Peace than 1980s TV miniseries. (The low-budget kind, featuring network "stars.") Picking out a meal from the myriad offerings is work. Not hard work, mind you, but still work.
The server, Diane, helpfully suggests that the shrimp scampi crostini won't make an adequate meal and beams approvingly at the notion of tacking on the chicken croquettes. (She was later overheard giving a very impressive explanation of the cocktail menu to a couple at another table. It's rumored that all Cheesecake Factory servers must take a long and involved test of their knowledge of the ingredients of every item on the menu. That may well be true.)
The food is decent. It has obviously been designed not to display any personality whatsoever, so as not to offend. Not a lot of spices, but plenty of butter and oil. Not that those are necessarily bad things. You go to a place like the Cheesecake Factory because it is an entirely known quantity and you will come out feeling very full.
But after seeing Modern Times, dinner at the Cheesecake Factory might also make you come out feeling sad. You sit in your little booth with its panoramic view of the interior of the Galleria and Anthropologie across the corridor. Some of the dresses they sell there look like the Gamin's waterfront rags. But the Tramp's wardrobe seems more J. Crew. They would call his jacket a "shrunken blazer."
You're tired after working all day. Laughing at Chaplin cheered you up and made you feel lighter, but this meal reminds you of the realities of work. Even people who love their jobs aren't deliriously happy every minute of all 40-plus hours of the work week. It's not humanly possible. As someone's mother undoubtedly once said, "That's why they call it work."
There must be a balance, though, between Tramp-induced high spirits and chaos and the office equivalent of a greasy chicken croquette. A reshaping of spirit, say, instead of crushing it so it'll fit into a cubicle.
"Buck up," you tell yourself. "Never say die. We'll get along!" As battle cries go, it's not as stirring as, "Tomorrow I will tackle work with the same grace and panache as the Tramp, only without getting myself crushed between a pair of giant gears."
It is, however, more succinct.