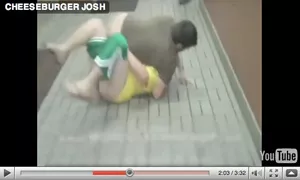 Josh says, "I will whoop you in this restaurant" to another customer and then is promptly pantsed.
Via
Eater
comes this incredible YouTube footage, which seems too surreal to have been staged, of one man named Josh and his anger at being denied a cheeseburger.
It might have just been a random shouting match between a customer and a fast-food employee, but a customer who
does
have a cheeseburger helps take this to another level.