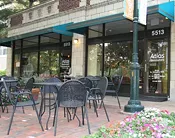 The Atlas patio on Pershing Street.
From one couple to another:
Michael Roberts
and
Jean Donnelly
, the husband-wife owners of
Atlas Restaurant
, told patrons via e-mail tonight that they are selling the Skinker-Debaliviere restaurant to
Diane and Bryan Carr
, owners of
Pomme
and
Pomme Cafe & Wine Bar
, in Clayton.
Donnelly and Roberts said it's "with a heavy heart" that they made the decision to sell Atlas and move back to Roberts' native San Francisco.
Atlas will not close. It won't even change names, according to the e-mail. The sale is slated to close on May 31.
More details from Donnelly's and Roberts' email:
You made running the restaurant such a positive experience, your candid feedback immediately gratifying and encouraging. We understand the chance each of you took when you first dined with us. So we consider your subsequent visits and enthusiastic referrals the very foundation of Atlas Restaurant's success. We also owe a debt of gratitude to the St. Louis press, which so often flattered us with praise in the reviews of Atlas Restaurant.

...[the Carrs] told us that they intend to build upon the foundation that we established, "flavoring it with the spirit of our Pomme Restaurants."

The Carrs will certainly undertake minor alterations to make Atlas Restaurant their own, but they have assured us that it will still have a similar decor, menu, pricing and hours. They will also retain much of our wonderful staff, whom you have come to know. Current reservations and gift certificates will be honored, too.

In short, we feel that our creation couldn't be in better hands. We encourage everyone to support the "new" Atlas Restaurant as avidly you have supported the "old" one.
Donnelly and Roberts will be around until the end of May.