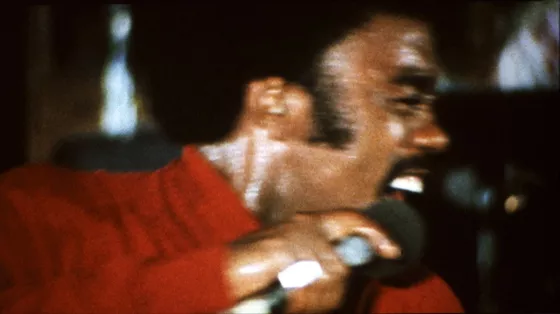 www.wattstax.com
Who's making love at Sportsman's Tavern? Johnnie Taylor, that's who.
The thump of music emitting from Sportsman's Bar can be heard while crossing Jefferson on a Wednesday night. It sounds more like a Saturday, complete with a guy leaning on a car outside the bar, yelling into a cell phone. In the tiny vestibule, two people huddle, perturbed at being interrupted by someone who dares to enter the already packed bar.
All the barstools are full, and everyone's bouncing in tune to the banging music. "Hey Girl!" a young guy in a Rally's costume yells, his cap turned backward, not pausing in his bounce to the late, great Johnnie Taylor's "Who's Making Love."
The jukebox in the corner's turned off. The music's loud enough to be a live band, but where? The corner of a pool table and six players is visible from the back room. The hallway between the bar and back room is full of dart players, dancing and shooting. There's not even room for a DJ.
The music shifts from classic R&B to hip-hop. One group of patrons migrates out as the next migrates in. Women dressed for a night out, checking their hair in the mirror-covered wall, side by side with women in healthcare workers' uniforms. All bouncing to DJ Mr. Rogers' "Flex: Clean." The Rally's kid bounces to the dart hallway, grabs a girl and they dance between turns of the game.
Amid the young dancers, a few old men smoke skinny cigars, seemingly unaware of the party around them.
The music's being spun by a DJ who, during the long mix of the song, wanders around the bar, microphone stuck in the back pocket of his jeans.
Outside, one of the crowds that left hangs out on the sidewalk, spread over half a block on Jefferson, talking loudly, possibly angrily, in the mild spring night. There's no dancing outside.
Sportsman's Tavern 3500 South Jefferson Avenue 314-771-5218