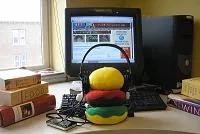 Gut Check dishes on our favorite St. Louis food blogs.
A Veggie Venture: Alanna made a kicky chayote soup.
STL Hops: Mike announced the STL Hops 2010 St. Louis Beer Challenge.
Cupcake Project: Stef tackled Beef Wellington.
FamilyStyle Food: Karen made char-siu pork buns.
Rhubarb and Honey: Kimberly made a lighter St. Patrick's Day feast.
Iron Stef: Stephanie made warm roasted cauliflower salad.
Feast: George reported on Via Vino, slated to open July 2010.
One Hot Stove: Nupur made Ven Pongal and Eggplant Gothsu.
Off the Menu: Joe reported that an oyster bar is coming to Clayton.
Sauce: Bryan reported on Mama Josephine's grand opening.
St. Louis Eats and Drinks: The Pollacks visited the Boathouse.
Sugar Spice and More Things Nice: Rachel shared some Vitamin D info.