Foley's Tavern sits on the quiet far-west end of Main Street, just a normal neighborhood bar. Here they adhere to the Illinois smoking ban, which means there're usually a few people sitting outside for a smoke with their Stag. Third-shift workers stop here in the morning for their version of a nightcap. Retirees hang out for a drink after rounds of golf.
But on St. Patrick's Day? Good luck getting in the door, because Foley's is giving away all-you-can-eat corned beef, cabbage and potatoes.
Suddenly everyone's Irish.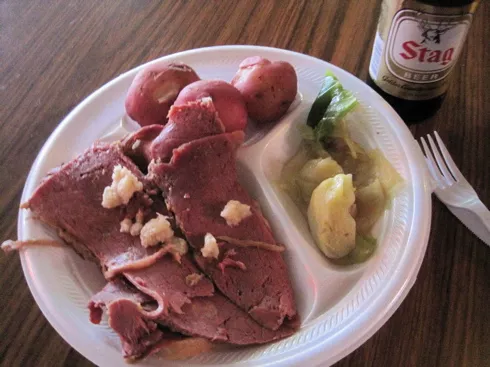 Robin Wheeler
Still life with Stag
"I'm 100 percent German!" a heating and cooling repairman cackles. He came in to fix the air conditioner, then called it a day with a full plate and a beer. "I can't believe all the people here!"
From the size of the crowd, packed so tight that walking from one end of the bar to the other requires at least fifteen "excuse me's" and seven accidental whacks with a large purse, it indeed seems as though most of Belleville has taken off work for the day.
"Charlie was here at six this morning," a bartender informs a patron. "He's starting at one end of Main Street and working his way downtown." It is now 1 p.m.; Charlie was last spotted at the next bar, half a mile down the street.
A trio of twentysomething guys nurse their pints of Guinness at the bar, working up the nerve to try their first Irish Car Bombs. Two of them chug the drinks properly, while the third hesitates just long enough for the Irish cream to curdle. He gives it a second try, fights down a sip before quietly uttering, "That's so gross," quiet enough to not be heard by his friends.
Robin Wheeler
One Irish car bomb, beertender!
The rest of the bar is filled with round tables, every one of them seated to capacity, covered in beer bottles and Styrofoam plates of free lunch. Despite the long steep in oversize slow-cookers, the cabbage is sweet and the potatoes just firm enough to fight the fork a bit. The corned beef is a little the worse for wear, but it's briny enough to stand up to a dose of grated horseradish.
Besides, it's free, on the one day of the year when bars can make a fortune on the cheap meal. Consider it German-Irish-American goodwill.
Foley's Tavern 7714 West Main Street Belleville, Illinois 618-397-1060