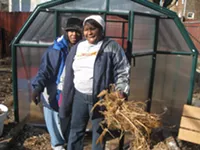 Photo by Kristen Hinman
Ernestine Isaiah and Bobbie Sykes clean out the greenhouse to put down compost.
When the compost arrived at the
City Greens
garden one late-February morning, the
Midtown Mamas
were all fired up about working it into their beds. Did it matter that the mercury had only risen to 25 degrees? Not a bit.
"You should have seen us the first year," says
Ernestine Isaiah
, whose backyard boasts beautiful peach trees. "We had people who didn't know what's a weed, what's grass, or what to pull up!"
"Ooh, we had some who were afraid of the bees!" adds
Bobbie Sykes
, who spent her childhood summers on a Mississippi farm. "Now they know the bees don't want anything from them. We're getting the hang of it. We've got
momentum
."
Three years ago, the Mamas, a social group in
Forest Park Southeast
which gathers at the
Midtown Catholic Charities
, were starting to feel the squeeze of gentrification in their old neighborhood. Worried about losing their homes, they decided to organize more than a weekly lunch. They planted a garden, started a micro-lending group, created a women-in-leadership training course and launched a farmers' market unlike any other.
Through a unique membership system that MCC's employees devised for City Greens, anyone in St. Louis can shop for the food grown on small Missouri farms -- but at prices well below those at most farmers' markets.
Here's how it works: Anyone making more than $30,000 a year who wants to shop City Greens is asked to pay $100 for the entire 20-week season, or $60 for ten weeks. Forest Park Southeast residents making less than $30,000 a year get their member fees waived.
Courtesy of Midtown Catholic Charities
Fifteen bucks buys all this.
Then, on market days, all market members pay the same price. A watermelon that would go for $8 at another farmers' market goes for $3 at City Greens, for example. French green beans that would run $5 a pound elsewhere sell for $1.60 a pound in Forest Park Southeast.
City Greens does not charge tax. Food stamps are accepted. And thanks to the paying members' subsidies, the 27 farmers from around
Silex, Missouri
, who supply the market don't get shortchanged at the register. (They don't even have to work it; the farmers drop off the food, and the Midtown Mamas take care of the rest.)
"Nobody knows who's a paying member and who's not," says
John Pachak
, director of Midtown Catholic Charities. "There's no stigma, because everybody pays the same price, shops together, samples the food together, and gets to know each other."
City Greens attracted 60 paying members last year, its first year in business, and turned a small profit that was used to buy dairy and bread for the non-paying members during the winter months. "We've been sending out 20 dozen eggs and 20 loaves of bread every week," says Pachak, "and we've sold 40 dozen eggs to the paying members who still wanted everything they could get during the off-season."
The Mamas say their dinner tables were transformed. "I tell you, like with the zucchini and squash, I used to have to hide it (in the food), but now that the kids have seen it growing and tasted it, they just eat it up," says Sykes.
City Greens is one of seven finalists in the running for an
entrepreneurship and innovation award
from the
Skandalaris Center for Entrepreneurial Studies
at
Washington University
. Should the Mamas win the $35,000 purse, they plan to accelerate the market -- that is, get a truck and introduce a mobile component.
As for their own garden,
Gateway Greening
and
Boeing
have tossed in seed funds for basic tools and a freestanding greenhouse that will allow the Mamas to grow their own produce year-round. (Their bounty doesn't go to the City Greens market. It's given to shut-ins, a food pantry and is used in community gatherings.) The women plan to visit some of the City Greens supplier farms this spring for a better idea of what it takes to grow food.
At the same time that they've been freshening up their tables, the Mamas have used their "community enterprise" offshoot to help women head-of-households fix up their homes and complete basic renovations to satisfy building codes. Their micro-lending "bank" has more than $6,000 pooled, with 26 zero-percent loans already given out and a 100 percent collection rate to date.
"We've all got a story, and it's those stories that first linked us together," says Bobbie Sykes, the Mama who oversees all the enterprise groups. "Now, our story is about how we aren't sitting down. We're standing up and participating in our community."
Note about the market:
City Greens plans to open with a party on May 27, farm/growing conditions permitting. The market will run Thursdays and Fridays from 12 - 6 p.m. and the first Saturday of the month from 8:30 - 11:30 a.m (1202 South Boyle Avenue). To become a paying member, call Ashley Getz with Midtown Catholic Charities at 314-534-1180. Or just show up. They'll have registration on each market day.