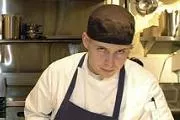 Owner and executive chef
Gerard Craft
has announced a change at his flagship restaurant,
Niche
(1831 Sidney Street; 314-773-7755). Beginning Sunday, March 14, diners can choose any three courses from the restaurant's menu for $35.
The price change reflects Craft's desire to return Niche to its more modest -- read: not white-tablecloth -- roots. He ties it into the movement that younger French chefs call "bistronomy," casual, market-driven dining.
"I kind of drifted from what I always love," Craft says. "When I was out in France recently for Brasserie [by Niche], I was eating at a couple of these bistronomy places....That was what Niche was. I loved it. I was like, why the hell aren't we doing it?
"Between Brasserie opening and really enjoying the feel of that again, I felt it was time."