Given Gut Check's never-ending quest for obsession with great wine values, we figured it'd be a good idea to check in from time to time with local merchants. They pick three wines they consider to be excellent values, and Gut Check buys and tries one of them. Price is important, but value is really what we're all after.
Dave Nelson
Today's wine man: David Stitt, proprietor of Veritas Gateway to Food and Wine in Chesterfield.
Up to bat this time is David Stitt who, along with his wife Stephanie, owns Veritas Gateway to Food and Wine (1722 Clarkson Road, Chesterfield; 636-530-9505). Veritas is home to one of the most interesting and eclectic wine selections in St. Louis. It's a treat to talk with David Stitt and explore the offerings Veritas has tucked away in its racks.
First up: Stitt's Value Pick...
Value Pick: 2008 Grayson Cellars Cabernet Sauvignon California ($9)
California cabernet sauvignon needs no introduction, but Stitt says this one is a real bargain because Grayson is taking advantage of the tough times in the California wine business to source topnotch fruit at attractive prices. Grayson, he adds, aims for "a more refined style that emphasizes bright fruit and not a lot of oak." If you're looking for something to keep on hand for a quick glass or two after work, or to complement a surprising range of foods, Stitt says this one is well worth trying.
Next, Stitt's suggestion for Something Special... Something Special: 2007 Domaine de Fondrèche Côtes du Ventoux Cuvée Nadal ($28)
This red blend is 45 percent syrah, 45 percent grenache and 10 percent mourvèdre, grown organically at a relatively high elevation on a plateau surrounding Mt. Ventoux. Stitt says its aroma is "classic" southern Rhône, but the cooler climate leads to "a more caressing, pinot-like body" that increases the wine's flexibility at the table. The estate has fewer than twenty vintages under its belt, but it has established itself as a top source.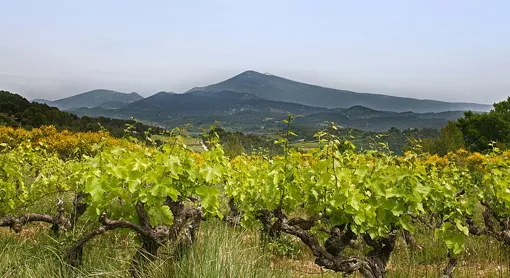 Mont Ventoux. Them there in the foreground is grapes!
This bottle confirms Fondrèche's reputation. It's a full, rich purple, with an intense but refined nose full of dark fruit, herbs and earth. Both the syrah and mourvèdre are raised in small oak barrels, but there's not a hint of oak. The wine tastes much livelier than its high alcohol content (14.5 percent) would lead one to expect. As Stitt promised, it's surprisingly elegant. This would go great with meat off the grill -- or just to fend off the chill of an early-spring evening.
And finally, if you're up for a Splurge... Splurge: 2007 Long Shadows Saggi, Columbia Valley, Washington ($50)
Long Shadows is a cool project from the mind of Allen Shoup -- the man who oversaw the meteoric rise of the Chateau Ste. Michelle and Columbia Crest brands. Shoup's a true believer in the quality of Washington state grapes. To show them off, he sourced some of the state's very best and turned them over to winemakers whom he believes cast "long shadows" working with particular varieties.
Saggi, which is Italian for "wisdom," is a blend of 42 percent cabernet sauvignon, 39 precent sangiovese and 19 percent syrah. Tuscan vintners Ambrogio and Giovanni Folonari take the reins and, says Stitt, "bring out the bright fruit and dusty earthiness I like about sangiovese, and then add body and richness."
Stitt says Saggi is one of those magical bottles of wine "where you've had three glasses before you know it."