Less well-known than the other ancient cradles of wine-drinking, Georgia is home to the earliest archaeological evidence of intentional cultivation of grapes to produce wine. Whether the region truly is "the" birthplace of viticulture, the inhabitants of this small mountainous nation (about the size of Louisiana) nestled in between Russia and Turkey, have been making wine for a long time.
As in, about 8,000 years.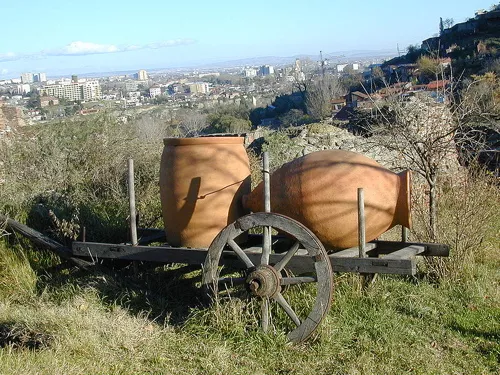 wikimedia commons | Nino Narozauli
A Georgian kvevri, the traditional wine-making jug. Is it significant that these were often buried underground?
Georgia is an iconoclastic and fiercely independent nation. Its language is linguistically unrelated to any other in the world, and its history is full of stories of courageous rebellion against much larger nations. Similarly, its wine comes in hundreds of styles (many of them sweeter than what's currently fashionable) and is made from unique indigenous varieties.
Today we fire up a dry red made from the saperavi grape, one of the few Georgian varieties that's made into wine all on its own, rather than being blended with other grapes.
2006 Kindzmarauli Saperavi, Kakheti, Georgia ($13 - Global Foods Market)
The color is dark ruby, the aroma not particularly pleasant. There's ripe fruit in there somewhere, but it's nearly obliterated by a sharp, sappy greenness. (Not to put too fine a point on it, but the smell is reminiscent of a less-than-ripe chambourcin from Missouri.) Some odd vinyl odor pokes its way through, too.
Unfortunately, it's even less pleasant to taste. Again, there's fruit flavor, but it quickly disassembles into a strange combination of harsh acidity, rough tannin and accidentally inhaled hair spray.
The bottle shows no signs of being damaged in transit; it's likely this is just a crappy wine.
The verdict: Swill
Saperavi is indigenous to the Kakheti region of Georgia from whence today's wine came. It's the most important of the Georgian red grapes in part because it is a teinturier grape, i.e., it has red flesh as well as red skin. (Most "red" wine grapes are white inside, so all of the color comes from soaking the skins in the juice.)
Teinturier grapes -- alicante bouschet is the variety most commonly found in both California and France -- darken the color of wine substantially, even in small doses. Saperavi is rare in that it's made into a varietal wine all on its own. If today's wine is truly representative, it might be the case that saperavi simply doesn't taste good.
Of course, a sample size of one is no condemnation of Georgian wine, nor saperavi. It's worth trying another -- though not from this producer.
"Thrill or Swill?" aims to expand wine drinkers' horizons -- including Gut Check's. If you have been curious about a grape or wine and want Gut Check to try it, let us know via the comments thread. If we can find it (and if we can afford it), we'll buy us a bottle, yank the cork and report back.