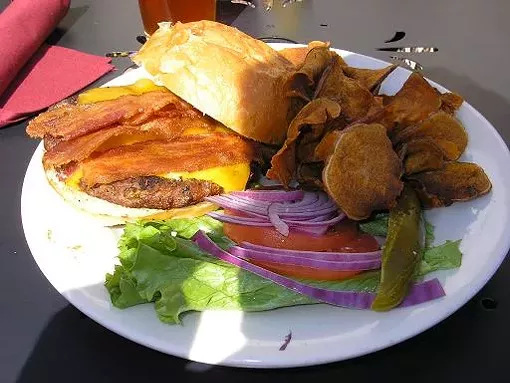 You might call this someone who doesn' t know how to keep the shadow of his own head from obscuring his photo. I prefer to think of it as a symbolic representation of the shadow of winter finally passing from us, revealing a gorgeous early afternoon on the patio of the Royale. What better way to celebrate than with a burger and a beer?
That's the Kingshighway burger there -- nothing more complicated than grilled Angus beef with (my choice) cheddar and bacon. It's tastes of beef and char -- of summer, in other words, still three-plus months away, but today, at least, as close as Kingshighway.
(Thanks to @inspiredkara, whose Tweet about the Royale's patio did, in fact, inspire today's dish.)
The Royale
3132 South Kingshighway
314-772-3600
$8 ($9.75 with cheddar and bacon)
I'm counting down -- in no particular order -- 100 of my favorite dishes in St. Louis. Some are well-known, others obscure. Some are expensive, others dirt cheap. All of them, I guarantee, are delicious. Please do not hesitate to share your own favorites via the comments thread.
Previously:
#97: Gyro sandwich at South Grand Gyro Express
#98: Carne asada tacos at El Paisano (Watson Road)
#99: Pretzel bites at Joey B's on the Hill
#100: Hot and sour soup at Shu Feng Restaurant